5 Changes iPad & Surface Tablets Need To Replace Laptop.
(ThyBlackMan.com) If you are thinking of replacing your laptop with a tablet, wait for the day when companies will make these 5 changes outlined below. Why making these changes is important because, without them, no one can call a tablet a true laptop replacement. Apple introduced iPads with the idea of reducing the need for a laptop. Microsoft also joined the bandwagon and introduced Surface devices. Samsung, Lenovo, and Sony also jumped into the game, but none of these companies bring a true laptop alternative. So if you want to switch from a laptop to tablet, wait for the moment when these companies will bring the following changes.
1. Sometimes, bigger is better
Two things laptop owners can't compromise with are screen size and keyboard. Those who use laptops every day cannot settle for a small display because it is harmful to eyes and also reduces productivity. Looking at those small tabs for a long time causes serious vision problems and you can't sit in the ideal position while holding a tablet. We can easily use a laptop by placing it on a desk, but it is not so convenient with a tablet. No matter how amazingly its hinges provide 360-degree movement, using a tablet on a desk is still inconvenient and if you don't want to use it on desk, just hold it and keep inviting neck injuries as using a tablet requires head and neck flexion.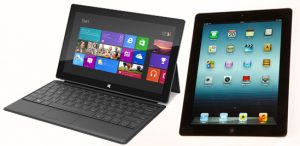 2. Don't impose limits
Tablets based on mobile operating systems impose limits on how we can work with multiple programs. iOS (Apple), Android (Samsung, Google) versions on tablets are smartphone-descended OS variants and they don't give you the freedom you get on a laptop. If you think that the touch-based Windows operating system on a Surface Pro tablet can be a good deal here, sadly, it's not. These tablets struggle to match the simplicity of the original operating system.
3. Don't make us compromise on productivity
Casual users can just do all the emailing, web browsing, and media consumption on a tablet without any problem. But those who run a business or use a laptop every day, finding proprietary software isn't easy if they switch to an iPad or Surface tablet. To use any application you run on a Mac or Windows PC, you will immediately need an iPad replacement. Same is applicable to the Surface Pro devices. Microsoft's tablet lets you do almost everything your Windows PC can do, but reduced productivity is the biggest deal-breaker here.
4. Who needs pens and pencils?
Only artists and those who have to create something by drawing need stylus the most. Touch input is an area where laptops fail, but they do provide support for trackpad, mouse, and keyboard. Those who want to draw flowcharts, make quick plans, or mark up reports, devices like iPad and Surface tablets give an additional layer of convenience. You can't just sit and use touch input on a laptop for a long time even if its screen supports touch input. But a stylus fails to convince everyday PC users because when it comes to multitasking, a stylus needs more hand movements than a mouse.
5. A better alternative, a bad replacement
Imagine yourself using your laptop and an iPad Pro or Surface Pro at a desk, on buses, on trains, and on planes. You will realize that a tablet is a better choice when you're moving, and a laptop is always better at a desk. But where do you perform the majority of your work? At your desk or when you're traveling?
For most of the people, a laptop is still irreplaceable, no matter how good Apple's iPad Pro and Microsoft's Surface Pro are. When it's about getting things done, any device can do the job, but if your work is all about sending emails, managing social media profiles and creating reports, a tablet is a better solution for you.
If you are still unsure, observe how you use your laptop and what software you use the most. Observing this pattern can help you decide. You can also download the apps offered by Apple and Microsoft on your PC to get a clear idea of how much freedom you will get on that particular platform.
Staff Writer; Corey Shaw
Have any Tech Tips? News? Hit up our Tech Guru at; CoreyS@ThyBlackMan.com