CrossFit: "It Can Kill You".
(ThyBlackMan.com) It's understandable that just about anything can kill us. However, we try to minimize that outcome as much as possible. Questioning the safety of something you want to do to better your life doesn't mean that you don't want to make necessary changes…you just don't want it to kill you. Embracing a life of physical fitness is not supposed to kill you. Choosing a new sport is not done so with a focus on how many ways it can kill you. CrossFit has taken the fitness world by storm.
Many have watched the CrossFit competitions, and see transformations in the bodies of others and aspire to do the same. However, some people can't overlook the risk of CrossFit that has been looked at by medical professionals. There is a risk of injury in any workout, or sport, however CrossFit comes under fire more than most. It can be unsettling when the founder, a former teen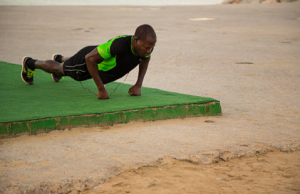 gymnast, basically lets you know CrossFit can kill you. He didn't say injure…he said Kill. That is cause for concern, and no one should feel ashamed if they choose a safer workout path to achieve the same goals.
Gymnasts, for the most part, enter their sport at a young age. The training is intensive, repetitive, and ordered. Though injuries happen many safety precautions are put in place. They are engulfed in countless kinds of drills that strengthen them level upon level until they are ably to do the routines we see in gym competitions. They go through years of training. Greg Glassman, Founder of CrossFit, is thoroughly aware of the regimen of a gymnast so its alarming, to some degree, that it seems okay CrossFit can kill you.
In 2005 Glassman responded to the injury of a former Army Ranger that ended up in the hospital after his workout by saying: "CrossFit "can kill you," he told The New York Times. "I've always been completely honest about that…. If you find the notion of falling off the rings and breaking your neck so foreign to you, then we don't want you in our ranks." The issue in this logic is he was trained, and there were safety measures in place for him not to break his neck in gymnastics…we'd like to think he was trained. This is can be alarming to a person looking to make fitness changes in their life to consider a program that they are clearly told can kill them.
No one is saying CrossFit doesn't have its advantages, and for many it has definitely bettered their quality of life. However, don't simply go with the trend, or what works for the next person. Look at your health, and adjust the fitness regimen you need. If you are turned off by throwing up after a workout…that doesn't make you weak nor less determined. There other alternatives to achieve the fit body you seek.
Gyms can form the basis of a community, but you must remember your number one priority is to reach your health goals safely. You want to be in a supportive environment that will motivate you to push to knew heights, but won't shame you when your body has reached its limit. I must admit the thought of breaking my neck doesn't compute in my workouts…so I'm not in the "ranks" as Glassman would suggest. However, I'm not sitting on the couch. I'm vigorously pursing fitness just not with CrossFit.
Staff Writer; Christian Starr
May connect with this sister over at Facebook; https://www.facebook.com/christian.pierre.9809 and also Twitter; http://twitter.com/MrzZeta.