Three Ways to Ensure that Your Home and Family Are as Safe as Possible.
(ThyBlackMan.com) When you move into a new home, you need to do everything that you can to keep your home and family as safe as possible at all times. Many people do not realize that security issues can arise from outside sources and within the home. The following guide provides you with a few tips to use to ensure that your family is as safe as they can be at all times.
Add a Security System to the Home
If you want your family to be safe at all times within your home, have a security system installed. A security system allows you to rest assured that no one is in the house without your knowledge when you come home after being out. The system will alert the authorities the second a door or window is tampered with while the alarm is activated, which will give you peace of mind that help will be on the way immediately when needed.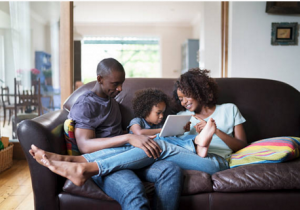 There are many different options available with it comes to security systems. You can click here to learn about a few options that are available so that you can start to narrow down the selection and find the perfect system for your home.
Secure the Interior of Your Home
It is important to make sure that you make the interior of your home as safe as it can be, as well. Take the time to secure bookcases and heavy dressers to the wall using furniture anchors that secure the furniture to the wall. This ensures that the heavy pieces of furniture do not tip over onto your small children if they attempt to climb on them or if an earthquake occurs.
It is important to also take the time ensure that you have a fire extinguisher within the home and that everyone knows how to use it properly. This will be quite helpful if a small fire breaks out while someone is cooking dinner one night. It is best to store the fire extinguisher in one specific location so that everyone can know where it is located when they need it.
Properly Prepare Your Family for an Emergency
Many families make the mistake of assuming that their family will know how to get out of the house safely when an emergency occurs. This is not always the case. It is best to create an evacuation plan and practice it on a regular basis so that everyone knows what they are supposed to do and where they are supposed to go.
Practice for a home invasion and for a home fire. You want to be sure that children know to stay low to the ground during a home fire and that they know to stay very quiet if they think that someone has broken into your home. It is best to establish a safe place for them to hide until they know that the home is safe to leave if they hear someone in the home that should not be there.
Properly preparing your home and your family for any emergency situation that may arise could end up saving someones life. You want to be sure to explain to your children that the likelihood of anything happening is slim, but you want to be sure that everyone is properly prepared to ensure that everyone is able to make it out of the house safely if something were to happen.
Staff Writer; Steve Washington