iMac Pro is Still 'Cheap' at $5K, Here's Why.
(ThyBlackMan.com) The base model of Apple iMac Pro starts at $4999 and if you max out the specs, it costs somewhere around $14,000. It sounds crazy to believe that someone would be spending this much money on a computer when there are countless options to build a highly powerful PC under $3K.
But then comes the moment when you see what the iMac Pro brings to the table. The much-hyped workstation looks so beautiful in space grey color and when you look at the Mac product line to buy a PC, it's like picking up something incomplete.
The new iMac PC is a game changer. Breathtaking Retina 5K display, the power of up to 18 cores with Xeon processor, turbo boost up to 4.5GHz, and Vega graphics. The surprise for pros is, the machine is also a beast, any developer, musician, scientist or video editor would love buying even for its $4999 price tag.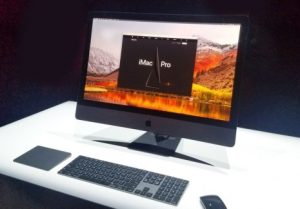 When Apple introduced the new product in Mac family and confirmed the starting price, two things instantly came to mind – Is the Apple iMac Pro overpriced? Can we build a PC with the same specs without spending a whopping $5K?
The fact is you can't beat this beast with a custom built computer. Many of us have tried building PCs that offer performance similar to Apple's new iMac computer. But in the end, it comes down to several factors that can not be ignored. You can't overlook the value of privacy, security, the operating system, customer support, inbuilt applications, and resale value when choosing a computer.
You can surely build something closer, but when it comes down to providing value for your money, Apple's new iMac PC is unbeatable. Try a custom build and you'll realize the pain of maintaining the machine with all the wires connected to it. The iMac Pro gives you the freedom not only from adware and backdoors, but you can just pack the 27-inch monitor with its wireless accessories and move it.
It's a dream computer. When you get the option of choosing among 8, 10, 14, and 18-core processor, you realize that you're stepping into an entirely different world. Add turbo boost to get speed up to 4.5GHz and see your Autodesk Maya 2018 running 2.2 times faster on a 10-core iMac Pro and 3.4 times faster if you choose an 18-core processor. Video editors can work smoothly on 8K videos as well – all at superfast speed.
Apple has given the numbers for all the popular applications showing how fast they run on Xeon and Vega, Maxon Cinema 4D, OsiriX MD, Adobe Photoshop CC, Wolfram Mathematica, Logic Pro X, Final Cut Pro X – you name it.
So what about the 2-in-1 PC everyone has been complaining about? Some people are complaining about the non-upgradable nature of the product. Some are saying that Apple didn't think well before introducing this PC. These arguments cannot be justified because we know that many people don't change their PC configuration annually. Even the pros who invest their time in running dozens of machines and work on huge video rendering projects or CAD models don't annually upgrade their machines. It's not like you buy a $5K machine this year and it becomes useless after a year. There are many options pros can choose from in the beginning only.
The most important factor is Apple has been listening to what that target audience wants. You may have heard Steve Jobs saying that consumers don't know what they want and you have to show them. But today, Apple has delivered what people want from them. People wanted a very powerful iMac PC from the company and Apple has given them.
The fact that the Apple iMac Pro is not for everyone is completely true. Even Apple knows that the average users are not going to buy it. Some people argue that Macs are not good for hardcore gamers. The question here is, did you hear Apple executives saying that they are targeting hardcore gamers with their offerings?
Staff Writer; Corey Shaw
Have any Tech Tips? News? Hit up our Tech Guru at; CoreyS@ThyBlackMan.com