Obesity in America: Finding the Real Culprits.
(ThyBlackMan.com) The alarming reports about obesity in America is not a failure of willpower of an individual, but a failure of our society. About 40 percent of adults are obese and 20 percent of children and teenagers are either overweight or obese. Overall, 70 percent Americans are dealing with weight issues. So who's responsible for this? Is this a result of conditions we work in? Or more people are obese because the conditions in which they live are making things worse?
Recently, the government released a report. A data published by the Centers for Disease Control and Prevention shows that obesity in America is rising, and now when 20 percent children are obese, we can imagine how bad the future could be. Those extra pounds are accountable for increased mortality rates. The problem is not just limited to the fear of death of more Americans, obesity in childhood is linked to heart problems, cancer, and diabetes. It means that the current generation is going towards a future which is full of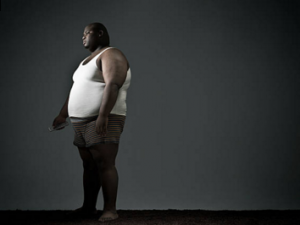 sufferings.
Research shows that the processed food is responsible for obesity in America. It is true that in many places, processed food is cheap and easily available. So the processed food alone is responsible for obesity in America? The World Health Organization (WHO) says that companies should produce healthy food at lower price. The organization also calls for more taxes and rules to protect children against unhealthy food items.
Providing healthy food at a lower price and increasing the price of unhealthy, processed food is not practically an easy way. Such decisions will surely draw backlash not only from the manufacturers but even from the society itself. If it happens, effectively eliminating processed food will turn out to be an impossible task. This is not the first time when an organization like WHO is raising voice against unhealthy food. But even today you can get processed food almost anywhere and at any time.
The government spends a lot of money on awareness campaigns. There are many programs running to improve nutrition and educate people about physical activity. When the money is being spent on such campaigns, the results are not as expected. The big question still remains the same – why after so many efforts there is a rise in obesity in America. There can be many reasons. The message is not reaching the right people or it is not as effective as it should be.
The rising obesity levels are a clear sign that the efforts are not bringing positive results. We haven't been very successful in preventing obesity. There should be specific campaigns to address certain challenges because the reports also suggest that when it comes to weight, ethnic and racial differences matter a lot. The problem is, most of the health campaigns are not specifically targeted towards treating the problems by following a pattern based on such factors.
One more reason behind why a large number of people in America are obese is the lack of physical activity. For many, diet is only responsible for weight, but research shows that it's not the diet, but lack of exercise that causes obesity in children and adults. You can't blame food alone for the current scenario of obesity in America. It's lack of activity that drives the surge in obesity.
Obesity is not just a health issue, it is problem that causes harm to a person in many ways. It draws inactivity, and as a result, it makes people feel less careful about their health. Obesity is a very complex problem. There are several social factors linked to it. We can't just conclude the thoughts saying that people are lazy. There can be many reasons why they are not active. They want to lead a healthy life but what if their work, family, and responsibilities don't let them find time for exercise?
Staff Writer; Corey Shaw
Have any Tech Tips? News? Hit up our Tech Guru at; CoreyS@ThyBlackMan.com