Carla Williams is the right person at the right time and place to guide athletic program.
(ThyBlackMan.com) The city of Charlottesville, Virginia has been prominently in the national news throughout 2017 for various reasons. The city most known as the home to the University of Virginia is a small city by size but also has a large series of attractions and venues for its relatively small size. The Charlottesville area was the home of Thomas Jefferson, James Madison, and James Monroe. Monticello, Jefferson's plantation manor, is also located in the Charlottesville area as well.
The biggest national news this year from Charlottesville came earlier this year from the aftermath of alt-right, white nationalist rallies because of the removal of Confederate monuments throughout the country in response to the Charleston church shooting in 2015. The rallies turned violent between the protesters and counter-protesters and led to several injuries and the death of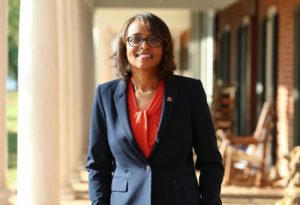 paralegal and counter-protester Heather Heyer. For a period of time, the events in Charlottesville, Virginia were representative of racial tensions in America and now Charlottesville and the University of Virginia has a new leader in the athletic department.
Carla Williams is the new Director of Athletics, or Athletic Director, at the University of Virginia and has made very substantial history in earning her new position. She is the first female African-American athletics director at a Power Five conference institution and is the fifth active female athletics director among Division I colleges and universities. Williams is going to be leading a major athletic program with a strong academic profile after receiving a five year contract that will pay her $550,000 per year, plus incentives. She will be responsible for the functioning and operations of all University of Virginia sports including the football programs, women's and men's basketball programs, and several other athletic programs.
Carla Williams' prior experience and success as the deputy director of athletics, since 2015 for the University of Georgia, has led to this point and the former University of Georgia women's basketball player has cherished all of her academic and athletic experiences by saying, "My career progression is the result of a commitment to education. Athletics provided the opportunity for me to attend the University of Georgia as a first-generation college student and my advanced degrees enabled me to further my growth and develop my career as an athletics administrator."
Her experience as an athlete in the south playing for a big-time SEC program and later working in the offices of a big-time SEC program will make Williams more equipped to handle social issues that may arise at a place that recently saw such racial strife.
It also seems appropriate that Carla Williams takes over at Virginia as its football program has begun to find itself after a half-decade of subpar football teams and the most prominent former Virginia football player currently in the NFL, Chris Long, has emerged as a vocal white ally in support for people of color. Most appropriate is that Williams is the barrier breaker for black women in the city where Thomas Jefferson's plantation is located, where he once used slaves for extensive cultivation of crops. Strides have been made and must continue to be made.
Staff Writer; Mark Hines