Three Pillars of the 'Feel-Good' Revolution in America.
(ThyBlackMan.com) We are living in a 'feel good' revolution in America. Health and fitness have exploded! The three pillars of this revolution are drugs, weight-loss surgery and the gym. The pharmaceutical and cosmetic surgery industries, along with health clubs, have recorded huge profits during the past twenty-five years. Why?
People want to feel good, look good and perform their daily tasks with more energy. In short, people want to feel Divine and live meaningful lives. Of the three pillars mentioned, the gym offers the most authentic means of moving closer to our best body and therefore our sacred selves.
Here's a short overview of all three pillars if you are considering taking steps to get fit.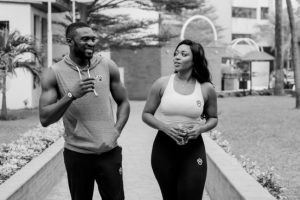 Drugs
According to an article in U.S. News and World Report, the Food and Drug Administration (FDA) recently approved four drugs that can aid in weight loss when used alongside diet and exercise. Supposedly, the new drugs all target parts of the brain involved with appetite and satiety, and interfere with hunger signals. The key, though, is the insistence that, whatever the external drug, it be coupled with diet and exercise.
The new drugs on the market are in addition to the multiple over the counter externals that promise users the hard body they've always wanted.
Rarely, however, do they deliver. Evidence still points to one unalterable fact: any drug that does not include an accompanying diet and exercise tandem simply will not lead to lasting and healthy weight-loss.
Weight-Loss Surgery
Recently I spoke with a young lady who was interested in losing weight. She confided to me that she has had weight-loss surgery in the past and was now considering a second surgery before the end of the year. Weight-loss surgery is any type of surgery that is carried out specifically to help you lose weight. The young lady said she had indeed lost weight after the initial procedure. When asked why she was considering it a second time, she replied, "I became inactive and got lazy after the first one."
The ultimate goal of weight-lost surgery, also known as bariatric surgery, is to reduce the size of your stomach. There are different surgical procedures being performed in the market place. The bottom line is weight-loss surgery may not be for everyone. You must be very careful in choosing this method and remember that what you do after the surgery is really what determines its long-term success. The key is to be prepared to make long-term changes to diet and exercise afterwards.
Health Clubs
Health club memberships have skyrocketed in the past quarter-century. Still though, only about 16% of the American population (50.2 million) currently belongs to a health club, according to statistics. Why don't more people use health clubs? You can cite pricing as the biggest reason, along with issues that come with signing contracts and forking up hefty first and last month's fees (although several clubs have now resorted to virtually zero down up-front fees). Add to this the revolutionary element in fitness brought about if you simply Google a workout and one would see why just joining a health club is not necessarily a panacea for fitness. People tend to be their own experts on their bodies.
If you do join a health gym but cannot afford its training services (and most people can't), take advantage of its free services such a complimentary fitness assessment. If nothing else, at least get your body fat and BMI measured at the beginning of your fitness journey to give you an idea of where you are and where you need to go.
The gym offers the most authentic means of moving toward our best body and our sacred selves.
Staff Writer; W. Eric Croomes
This talented brother is a holistic lifestyle exercise expert and founder and executive coach of Infinite Strategies LLC, a multi-level coaching firm that develops and executes strategies for fitness training, youth achievement and lifestyle management. Eric is an author, fitness professional, holistic life coach and motivational speaker.
In October 2015, Eric released Life's A Gym: Seven Fitness Principles to Get the Best of Both, which shows readers how to use exercise to attract a feeling of wellness, success and freedom (Infinite Strategies Coaching LLC, 2015) – http://www.infinitestrategiescoaching.com.