Whitney Houston Will Remain the Voice.
September 23, 2017 by Staff
Filed under Uncategorized
(ThyBlackMan.com) There are very few things in this life that is unchanging. However, we must agree that the voice of Whitney Houston is one of those things. No matter how you may have felt about her…the voice on that woman was powerful, and divine. Other than Marvin Gaye there is no version of the National Anthem that can make you almost forget that we have no love for that song. As the country faced war it was Whitney Houston's voice at the Super Bowl, how ironic, that caused patriotism to surge in the hearts of all who heard it.
So, let me side bar for a moment and just say this the surge felt as a result of Whitney Houston's voice happened for white folks too. That's important since in the age of Trump some supremacist swear up and down this country is about them…yet the power of the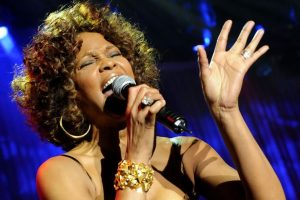 anthem is felt under the voice of Whitney Houston…a black woman. Yes, just another small example of how we can shoulder the bill for this here country with no thought that we should be treated as true citizen. Back to music.
I am a fan of many artists. There really are singers out here that move us when they sing, and some of them site Whitney Houston as the artist that inspired them. Who didn't own The Bodyguard soundtrack?! The soundtrack was by far better than the movie, and Whitney Houston's greatness is written all over it. Her voice is so profound that even after great damage to her voice she could still move us vocally. Let's be real, outside of our soulful and neo-soul artists, some of these mainstream ladies' voices are barely average…and I'm being nice.
If they were to sustain voice damage be it from substance abuse or otherwise…they can hang it up. Say what you want but in my humble opinion I'd take Whitney Houston on a bad day over Mariah Carey any day and twice on Sunday. Even if she's not in concert if Whitney Houston so happen to fall in your church on Sunday…she will sing the house down.
Whitney Houston was the baby of an area of greatness in black female voices that felt untouchable. When Gladys Knight, Pattie LaBelle, Chaka Khan or Aretha Franklin step on a stage you know the voice is about to reach your soul…Whitney Houston is their baby. For many she will always be The Voice.
Staff Writer; Adonicka Sassy