Record or not, Floyd Mayweather Jr. will never be able to be considered "The Greatest".
(ThyBlackMan.com) Floyd Mayweather's win over Conor McGregor last month was record-setting for numerous reasons. It featured the two biggest names in their respective sports and the total gross for the event might be the largest in boxing history. The boxing history part of that match happened when Mayweather defeated McGregor as Mayweather earned his 50th professional boxing victory with no losses, which bests the record of all-time great Rocky Marciano, who had a record of 49 wins and no losses.
Both Rocky Marciano and Floyd Mayweather Jr. have a claim as the greatest boxer in history along with boxing legends like Sugar Ray Robinson and Joe Louis. However, many boxing fans and experts consider Muhammad Ali as the greatest boxer of all time. Ali's nickname as "The Greatest" has stood the test of time even as Floyd Mayweather has constantly called himself the best boxer ever. However, it is clear that beyond boxing skill that Floyd Mayweather's latest comments will forever separate him from the legacy of Muhammad Ali.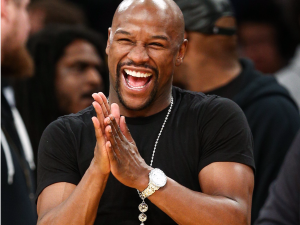 One of the main reasons that Floyd Mayweather has been such a polarizing public figure is because of his egocentric and materialistic persona. It is not uncommon for Mayweather to be photographed doing something eye-popping with his money in terms of spending and the adoption of the nickname "Money" has only led to more outlandish acts by a boxer many consider to be a boring fighter. There have always been boxers like Mayweather and Muhammad Ali whose mouths are as loud as the hits that they put on opponents but Mayweather took it to another level with the flaunting of his wealth, particularly during a time when many in America are struggling financially. Perhaps the bigger and more important reason that Floyd Mayweather Jr. is a polarizing sports figure is the fact that he is a convicted domestic abuser who has pleaded guilty in two incidents.
The most recent controversy involving Floyd Mayweather Jr. has been his alignment with one of the most controversial presidents in U.S. history, Donald Trump. During a recent interview with Hollywood Unlocked, Floyd Mayweather's appreciation for Donald Trump showed with various head-shaking comments including Mayweather saying, ""People don't like the truth… He speak like a real man spoke. Real men speak like, 'Man, she had a fat ass. You see her ass? I had to squeeze her ass. I had to grab that fat ass.' Right? So he talking locker room talk. Locker room talk. 'I'm the man, you know what I'm saying? You know who I am. Yeah, I grabbed her by the pussy. And?'" There are plenty of celebrities that align themselves with various politicians but Mayweather decided to cosign the infamous sexual assault comments by Trump while confirming the belief that his misogynistic mindset towards women mirrors the domestic violence he has been convicted of.
Floyd Mayweather Jr. is apparently retired and has fought his last fight. His boxing legacy is secure among the legends of the sport. However, given how much the public knows about Mayweather's personality and actions compared to Muhammad Ali, whose boxing and social activism cannot be separated from each other, it is clear that Mayweather will never be "The Greatest".
Staff Writer; Mark Hines