What to Do with the 'What's Done' of Our Life.
(ThyBlackMan.com) "What's done is done!" we like to proclaim. What's done is rarely done; it's waiting to be sufficiently dealt with and adjudicated. 'What's done' are the issues that line the shelves of our lives and are marked 'closed'. The problem is they usually aren't. We generally do not know what to do with the 'what's done' of our life.
'What's done' are the life grievances or 'recycled hurt' we have not sufficiently dealt with; they are the relationships we thought were over, the projects we supposedly shut down, the family members we thought we had distanced ourselves from – even the leftover pain and hurt from loved ones who are now deceased.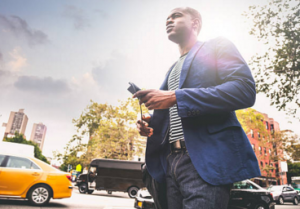 The 'what's done' of our lives keep us shackled, confused and afraid of embracing our brand-new future; they bring on guilt, shame and depression; they cause us to constantly look over our shoulders, fearing that 'what's done' will come undone – and it usually does.
Dealing with our 'what's done' requires courage; it requires us to be willing to ask tough questions of ourselves and not be afraid of the answers. Here are three such questions to begin with.
Have You Healed from the Hurt?
A lot of our what's done are connected to past hurt. People generally move from relationship to relationship without giving place to their healing. Women in particular tend to abruptly leave relationships; before you know it, they are in another relationship, transferring the pain and the baggage from one mate to another. Hurt people hurt people. It's not only romantic relationships, but familial ones, as well. Sibling rivalries grow into adult hatred and bitterness, with people keeping one another at arms length.
He heals the brokenhearted and binds up their wounds, according to Psalm 147:3.
God heals our brokenness and applies a balm to our wounds. That's good news! It's important to heal from our hurt, to take measures to ensure that we are recovering our wholeness as opposed to allowing our lives to disintegrate into broken pieces. So don't be afraid to pose this very important question.
Have You Extracted a Blessing from the Lesson?
Out of every lesson learned there is a blessing earned. The biggest blessing of all is self-growth. If you can extract that one positive virtue, your 'what's done' will not matter. The biggest reason we have so many 'what's dones' is because we allow others to hold it over our heads. They do this because they sense it's our weak spot. In most cases, it very well is.
Proverbs 15:21 says Foolishness brings joy to one without sense, but a man with understanding walks a straight path.
Extracting a blessing from a lesson requires some mental work; it requires you to have honest conversation with the person in the mirror. Again, we cannot be afraid to ask tough questions. What did I learn? How has what I learned shaped me? What way can I turn my pain into gain? The end result is that we gain an understanding.
Are You Anxious About Moving Forward?
Isaiah 43:18 reads, Don't remember the prior things; don't ponder ancient history. Look! I am doing a new thing; now it sprouts up. Don't you see it? That's the worst thing about 'what's done' – it causes us to miss out on our blessings. All of us have history trapped in us and we are trapped in history, to paraphrase James Baldwin.
The problem is when we become so trapped in our history that we don't see what God has in store for our future. We don't have to be anxious about tomorrow; we have a something new and powerful to look forward to.
Today, muster the courage to think, move and live forward and claim your brand-new future!
When we muster the courage to answer the aforementioned questions, we will never again be held in check by our 'what's done'!
Staff Writer; W. Eric Croomes
This talented brother is a holistic lifestyle exercise expert and founder and executive coach of Infinite Strategies LLC, a multi-level coaching firm that develops and executes strategies for fitness training, youth achievement and lifestyle management. Eric is an author, fitness professional, holistic life coach and motivational speaker.
In October 2015, Eric released Life's A Gym: Seven Fitness Principles to Get the Best of Both, which shows readers how to use exercise to attract a feeling of wellness, success and freedom (Infinite Strategies Coaching LLC, 2015) – http://www.infinitestrategiescoaching.com.