Three Ways Our Faith May Increase Our Happiness.
(ThyBlackMan.com) Faith is an undeniable factor in how we respond to the challenges of life. It has been noted and research conducted by the author Patrick Glynn appears to prove that a faith-based, spirit-grounded lifestyle is good for both our physical and mental well-being. Patrick Glynn is the author of God, The Evidence: The Reconciliation of Faith and Reason in a Post-Secular World, published in 1999.
Glynn persuasively argues that "at its heart is the dawning realization that the universe, far from being a sea of chaos, appears instead to be an intricately tuned mechanism whose every molecule, whose every physical law, seems to have been designed from the very first nanosecond toward a single end – the creation of life."
Order, design and life in the spirit are the pillars of faith in the unknown. The faith we are in possession of – indeed which possesses us – is the stuff we use to make sense of what is not always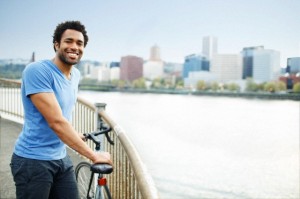 evidentiary. What we 'believe' may actually conspire to increase our level of happiness. 'Faith' spoken of here is not denomination, it is personal creed, it is personal devotion and it is grounded in a personal relationship with a Higher Power.
Life is first and inner experience. All of the peace and security we are seeking is within us, writes Susan L. Taylor, former Editor-At-Large at Essence Magazine.
This 'inner experience' has its fair share of benefits. Here are three ways our faith may increase our happiness.
We Handle Stress Better
Life in the spirit equips a person to handle stress more effectively. According to Glynn, high levels of faith commitment correlate with lower levels of depression and stress, and give us a greater ability to cope with stress.
When we live in the Spirit, we tend to see our struggle differently than those who do not. We see the end before the beginning; we see success where others may see only failure; we see ourselves a growing through our challenges as opposed to merely just going through them.
We Have Something to Believe In
Established ways of believing contribute to a meaningful experience; when you believe in something – faith, creed, and principle – you extract meaning from it. Indeed, Glynn opines that believers with well-grounded belief systems consistently report greater overall happiness and satisfaction with life and are generally more positive about life.
Faith affords us a dimension of life that flows from direct communion with a Higher Power, a communion nurtured by prayer, ritual, meditation and worship. Faith gives us the centered experience.
We Are Part of Something Bigger
Attaching oneself to a larger cause can be one of the most fulfilling experiences in life. Why? Because when we do so, we discover it's not all about our self-contained, whimsical desires. One of the areas of my life where I've found this to be especially true is in worship and praise. What an experience to come together with others and perform such a beautiful act as worship! Your outlook on your challenge is immensely impacted when you worship with others who face their own obstacles. Indeed, we are able to worship within the confines of home on any given day of worship, but I would argue there's something missing when we neglect the "assembling of ourselves together".
In fact, according to Glynn's findings, people who did not attend church were four times as likely to commit suicide than were frequent attendees. That's huge. That means we share a not only a common faith, but a common destiny, as well.
Faith is an undeniable factor in facing the challenges of life.
Staff Writer; W. Eric Croomes
This talented brother is a holistic lifestyle exercise expert and founder and executive coach of Infinite Strategies LLC, a multi-level coaching firm that develops and executes strategies for fitness training, youth achievement and lifestyle management. Eric is an author, fitness professional, holistic life coach and motivational speaker.
In October 2015, Eric released Life's A Gym: Seven Fitness Principles to Get the Best of Both, which shows readers how to use exercise to attract a feeling of wellness, success and freedom (Infinite Strategies Coaching LLC, 2015) – http://www.infinitestrategiescoaching.com.