Talking about "The Nth Ward" with Camille Brown.
(ThyBlackMan.com) Camille Brown sat down with us to discuss her upcoming independent feature thriller "The Nth Ward" which will be released on August 29, 2017 on Amazon. She is an alumni of UCLA's prestigious Film, Television and Theatre School where she earned her Bachelor of Arts. Her documentary "A Second Chance at Life" (2009), narrated by Whoopi Goldberg, screened at several film festivals and won best documentary. Camille Brown started in production and worked on films such as "The Chronicles of Riddick" (2004) and "A Perfect Getaway" (2009). While producing and working in development she directed a short film titled "Thank You for Washing" which can be viewed on Amazon. "The Nth Ward" is Camille Brown's feature directorial debut, and in it she is confronts a system that has let down citizens in a major city in this country in a fictional narrative. In this interview, she took the time to give us insight into what motivated her to make this film, what it is about, and a message to those that seek to achieve the impossible.
Are you from, or have family from New Orleans? What draws you to the Hurricane Katrina narrative?
I am not from New Orleans, but my family's friends are from there. I was drawn to the stories they would tell of their experience post Katrina, and why some felt they could not go home. I had an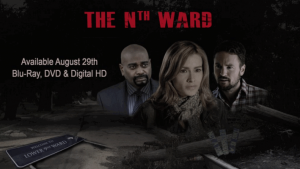 opportunity to interview residents in New Orleans, and hear firsthand the story of their suffering. I was further drawn in by the news and pictures of the devastation. My heart broke for the people; I wanted answers and accountability for them. From the outside, we are led to believe that everything was rebuilt, but then I went there and saw it myself, the Ninth ward had not been rebuilt. I wanted to know why these areas had been left in ruin so I began to talk to people there in New Orleans. I decided to create a fictional film based on what I had seen, and the information I received.
Could you talk to us a bit about the film, and how you gave life to this story?
Originally, I saw this project as more of a TV series, but I was constantly met with opposition, and delays, so decided to make a feature film instead. I was not going to wait for someone to give me permission to tell this story so I began to work on the funding, and move ahead with the film. The film centers around the Army Corps of Engineers, and what happens when an independent agent is sent to investigate what took place in New Orleans, where Katrina is concerned. The main character is She will be confronted by hard truths, and a culture that is mysterious in many ways. It was easy to give life to this story because it comes from a place of me seeing what the people have had to endure and wanting both answers and justice for them.
How is the voodoo culture represented in the film?
It was not presented in a stereotypical, nor disrespectful way at all. It is used as an overtone, and undertone for the plot of the story. Sometimes belief systems are used as a scapegoat for wrong doing. Seeing that voodoo is a solid part of New Orleans culture to current day, and it gives authenticity to the story through aspects of the culture being acknowledged. Furthermore, in history voodoo has been blamed for devastation. We saw this in discussions about Haiti. The audience will be able to decide for themselves whether voodoo is a destructive force, or just a vital part of culture in the film.
Are there a lot of films out that you feel do the Hurricane Katrina narrative justice?
No, not necessarily. I want to see films that address what actually caused the devastation, and why certain parts of New Orleans has not been rebuilt. There has been so much focus on the aftermath of the storm, and the magnitude of the destruction. I acknowledge we may never be told the outright truth of what caused this, but that doesn't mean we can't continue to press for answers and accountability. Film has always been a medium where by tough questions regarding a matter can be raised.
Where was the film shot? What were your favorite parts of filming for this movie, and what areas were more of a challenge?
"The Nth Ward" was shot in New Orleans, and Atlanta. The challenge of shooting a double of a historic place was one of my favorite aspects. Having to create Bourbon Street in Atlanta to shoot a parade scene was fun. I would admit having an accelerated shooting schedule, and having to shoot on site in a new place had its difficulties. Working on location caused us to have to shoot without crew context, and that was exhausting. Overall shooting "The Nth Ward" was a good experience.
What feelings, or knowledge, would you want the viewer to walk away with after having seen your film?
It is important to me that the viewer knows that making art or film is a labor of love. Making this film was hard. There were challenges, but it reminded me of a quote by Nelson Mandela… "It always seems impossible until it's done." I felt that way making this film because it seemed impossible, but when it was finished I felt a sense of accomplishment. If you work hard, with passion and perseverance you can achieve what you once thought could never be done. Do your dream…make it a reality.
It was a great opportunity to sit down and talk with Camille Brown about her upcoming film "The Nth Ward". She poured her heart into a project that she believes in and we definitely look forward to seeing the film. "The Nth Ward" will be released on August 29, 2017, the anniversary of Hurricane Katrina on Amazon. For more information on the film you can visit http://www.thenthward.com/. You can also follow updates about the film on Facebook and Twitter. Please go out and support this independent film, and director Camille Brown in her debut.
Staff Writer; Christian Starr
May connect with this sister over at Facebook; https://www.facebook.com/christian.pierre.9809 and also Twitter; http://twitter.com/MrzZeta.