Use Parental Control App To Protect Kids From Social Media Addiction.
(ThyBlackMan.com) Once your child starts using a smartphone and the Internet, it is just a matter of time when they become addicted to social networking sites. Many parents struggle to keep their teenagers protected from the threats of social sites. From talking to strangers online to getting influenced by peer pressure, there are several negative aspects of using social networking sites including Facebook, Snapchat, Instagram etc. Apart from low self-esteem, social media also becomes a reason of digital addictions. Teenagers see numerous gaming advertisements popping up on their newsfeed and are vulnerable to become addicted to video games.
1. Social Media Obsession and Parental Control Apps
How can parents protect kids from digital addiction?
As a parent, you can only address your child's problems if you are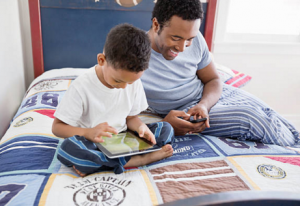 aware of the difficulties they are facing. Staying updated about your child's online activities is only possible by using parental controls. A parental control app protects your child digitally, helps you monitor their activities and sends alerts to parents in case of any emergency. One such app is FamilyTime which is compatible with both Android and iOS devices. Using FamilyTime parental control app, parents can control their kid's obsession with social media by:
Scheduling an auto screen lock on their device
Viewing all the apps installed on their gadgets
Checking the usage frequency of different social and gaming apps installed on their smartphone
Blocking the social apps that are addictive for teens
These are not the only benefits of the app. With the help of the FamilyTime app, parents can monitor web-browsing history, bookmarks and frequently visited URLS along with the date and time stamps on their child's device. It also enables parents to track location history and current whereabouts about their teenagers.
Want to explore all the features? Get the trial verion of the app now for free! With the trial version, you can get access to all premium features.
2. Tips to Protect Kids from Negative Influence of Social Media
Here are a few useful tips for parents:
Give special attention to social media: Never underestimate what social media can do to your child. Befriend and follow your child's profile on all the sites so that you can keep an eye on the posts your child shares or the type of people your teen interacts with.
Remind them social media is not real: Many teenagers get negatively influenced after seeing achievements of their peers on social sites. Make your child realize that people do not post about their difficulties and often portray themselves as the happiest person while using these sites.
Keep Your Child Busy: Children invest an unnecessary amount of time on social media. Encourage your child to take part in different noncurricular activities so that they don't have enough time to spend excessively on social networking sites.
Staff Writer; Peter Moore