Efficient Ways to Choose the Right Pest and Termite Control Company.
(ThyBlackMan.com) If there is a situation where termites are chomping away the house, cockroaches are everywhere in the kitchen, mouse and rats are cutting away your valuables, moths are eating your precious trees, or your house is filled with insects, then there's a serious pest issue in your home. You now might have thought about options that could help you get rid of the situation, and it's more likely that you haven't thought of solving it on your own.
This is where you should try getting help from the professionals, like Treebark Termite and Pest Control Services. Professionals companies are well aware of the situations that people go through when they have a pest problem and they provide accurate and efficient solutions that could help you get rid of the pests and insects.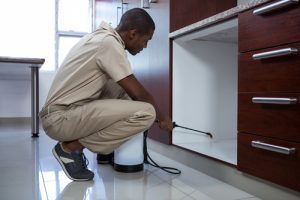 However, if you go out and try searching for professional help, you'll find many companies that provide you with pest solutions. This makes it important for you to choose the right company that could help you get rid of the pest situation. If the presence of a large number of pest solution providers confuses you, then here are some of the questions that you could seek answers from the companies before choosing or hiring a company to make sure you choose the right one:
Does the company have a good track record?
While searching for a good pest solution providing company, you might come across salespersons of a different company who would claim that their company is the best. However, it's recommended that you don't just rely on what the salesperson says, you need to research yourself. You can ask your friends, neighbors, and even people who have received the services of the company to make sure that they are good.
You can also check for online reviews and consumer services forums to find out if there are any complaints against the company and what are they for. This will help you choose a good company for your pest problems.
Does the company have insurance?
You might think that what role can insurance play while choosing a pest control providers, but it's one important aspect that you can't miss. The company you choose must have general liability insurance and insurance for sudden and accidental pollution since they can provide you a certain degree of protection in the case of any accident occurs while pesticides are applied in your house.
You can also ask if the company has workers' compensation insurance because accidents can happen anytime and injury to any employee of the company during work can be covered in it. Remember, you shouldn't choose the services of a company if it doesn't have insurance.
Is the company properly licensed?
This is one of the most important questions that you mustn't skip at all. Since the pest control companies deal with pesticides and other materials that could be toxic they need to have a proper license to use them. Generally, most of the states have made it mandatory to have a valid license to provide the services, but it's better if you could check it to be completely sure. Make sure you check both the pesticide business license and the current applicator's certificate of the company before you choose them.
Does the company stand behind its work?
It's important that you ask the company you choose about the assurances that the company makes. The company you choose must be able to stand behind its work. The company must assure you a time limit in which the pests control solution will work without fail. This will ensure that after the termite and pest control is done, you get assures that they won't come back anytime sooner.
In addition to the assurance, some of the good pest control companies also provide you annual inspections and maintenance contract to make sure that their guarantee is intact. However, you might need to read the terms and conditions carefully as it might have some exceptions.
Is the company willing to discuss how it will go about the treatment of pests in your home?
Generally, people tend to make the mistake of choosing any pest control service without doing any proper research. However, it's recommended that you need to treat it as important as selecting any other professional services. You should make sure that before the company starts providing its services, it comes and inspects the house completely and outline a control program to you.
The outline program should contain the pests present in your house, pesticide formulations that should be used in the house, and the extent of infestation as well. All these points must be discussed with you and then keeping the treatment in mind you should choose a company that you think would be effective.
These are some of the most important questions that you should ask a pest solution provider company before giving them the contract. However, if you don't have much time to research, you can choose companies, like Treebark Termite and Pest Control Services to make sure you get efficient services.
Staff Writer; DDavis