PS Vita Games: PlayStation Plus Free Games June 2017 Predictions.
(ThyBlackMan.com) Several PS Vita games are predicted to be the part of the PlayStation Plus free games for June 2017. While Sony PlayStation Vita 2 release details are scarce, fans are expecting Sony to announce a better lineup of games for the existing console. The company usually announces two new games for PlayStation Vita for Instant Game Collection library, and this time fans are expecting an improved lineup of PlayStation Vita titles.
Predictions for the new free PS Vita games for June are include titles related to the upcoming games. Since E3 2017 is just around the corner, there are chances that Sony will add predecessors of the upcoming games to the PS Plus free games library. According to fans, Sony will likely bring Hatoful Boyfriend, A Boy and His blob, Back to Bed and Don't Die, Mr Robot in June 2017 for PlayStation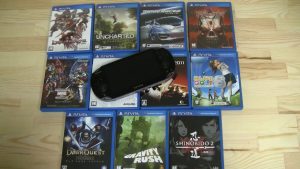 Vita.
For the current month, PS Vita owners have Laser Disco Defenders and Type: Rider on the platform. Both the games are good, but the titles didn't manage to make subscribers happy with the lineup of games. There are chances that Sony will include Nidhogg and Spy Chameleon into the PlayStation Plus free games library in June 2017.
Most of the titles Sony brings on PlayStation Vita include indie games and the upcoming free games are likely to be the games from independent developers. It is believed that for the PS Plus free games for June 2017, Sony will include Pixel Piracy and Volume. Since the arrival of the PlayStation Plus program, Sony has not given many titles till date. Some of the titles are even available on multiple platforms, while many are PlayStation Vita exclusive games. There's so much Sony can give away to fans in the coming days.
It is still unclear which titles Sony is going to embrace for its PS Plus free games lineup for June 2017, the company is gearing up to make some major announcements this year. As far as the titles for the Vita are concerned, Sony has already confirmed the arrival of some new games including Kung Fury: Street Rage, Plantera, Spellspire and Utawarerumono: Mask of Deception.
Meanwhile, Sony has also revealed its sales figures during the financial earnings call. According to Sony, PlayStation Network service has reached over 70 million active subscribers by the end of 2016. The company has sold 78 million hardware units.
Couple of months ago, a patient filed by Sony surfaced online. According to reports, the patient was filed in 2015 and appears to be a Vita successor. But just like many other patients filed by the company, which never saw the light, it is really hard to say whether the Sony PS Vita 2 will arrive or not.
Sony has not revealed any details about the rumored Vita successor being called PlayStation Vita 2. In 2015, Sony's Shuhei Yoshida said that the company was not planning a Vita successor release at that time due to dominance of mobile gaming.
According to the company, it is planning to expand the PSVR business and is also planning to create a new mobile content opportunity in Asia and Japan. It is still uncertain that what the company is planning to announce this year at E3, but Sony has assured fans saying that something exciting is on the way. So we have to wait for Sony's press conference which will take place on June 12, 2017.
As far as the free PlayStation Vita games for June 2017 are concerned, we expect to see some of the titles fans have predicted for the month. As the company is majorly focusing on attracting more customers to its PS Plus services, there are chances that the company will bring cross platform titles to add at least 3 to 4 games for PS4 that support PlayStation Vita as well. It would be interesting to see what June holds for PS Vita owners who are active members of the PS Plus community.
Staff Writer; Corey Shaw
Have any Tech Tips? News? Hit up our Tech Guru at; CoreyS@ThyBlackMan.com.