The Militarization Of Public Schools In Urban Areas Across America.
(ThyBlackMan.com) A few days ago, as I was walking through my old high school that I had attended back in the day, I had immediately noticed the extreme militarization of the school with a police squad car parked at the front of the school with a "resource officer" stand at the front door of the school checking to see if any urban students had guns, knives, or even drugs to systemically criminalize and arrest them. I also believe that they have metal detectors past the front doors of the school that also play its role in the systemic criminalization and incarceration of urban kids, particularly urban boys.
Another thing that I noticed about my old high school was that the left and right side parking lots have silver fences that have sharp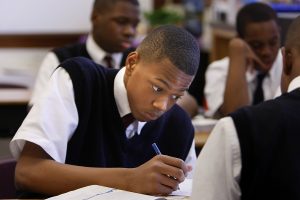 razor edged wires at the top of them and the first thought that came to my mind was "this school like other urban schools across the country have become nowadays a modern day prison camp instead of a school" because I remember not seeing my old high school being turned into a prison camp during my days as a student at that high school.
It's no coincidence that The System specifically placed more police officers, metal detectors, and search dogs in urban schools which systemically criminalizes and incarcerates urban kids at a far disproportionate rate than kids from the suburbs as a result of the "zero tolerance" policies that have been very harmful to urban kids over these past few decades.
Suburban schools these days have suburban kids bringing guns, knives, and other weapons on those campuses and they're not criminalized nor incarcerated at the disproportionate rate that urban kids are and they can get away with offenses at school that urban kids are severely punished and incarcerated for.
I remember my days in the public school system very well and one of the things that I remember about going to three elementary schools in predominant colonial areas as well as a middle and high school in predominant urban areas of the city back in the day was there were no police officers, no search dogs, nor were there metal detectors that systemically criminalized me back then unlike urban kids of today who are systematically criminalized and negatively harmed by colonial perpetuated racial biases that deliberately forces urban kids out of the classroom and into the private prison system.
And, urban kids are not only being harmed on a daily basis by colonial (mostly female) teachers with these negative biases that further perpetuate the parasitic capitalistic tactic of the school-to-prison pipeline, but also these armed thuggish police officers that often grab urban kids and throw them to the ground and putting a knee in their backs which leaves urban kids with severe psychological and physical damage that be difficult to overcome.
The Conclusion – Reforms won't chance the paradigm for urban kids in urban schools. We need Black Community Control Of Schools in which we should teach our kids curriculum that's truly culturally relevant as well as hiring more urban teachers to teach our kids in predominant urban schools that reduces the chance of them dropping out and getting suspended.
Staff Writer; Kwame Shakir (aka Joe D.)