Janet Jackson Still Got It, Mariah Carey Singing the Blues sadly.
May 13, 2017 by Staff
Filed under Uncategorized
(ThyBlackMan.com) I guess once a star gets to a certain status they can be a bit diva-ish. However, Mariah Carey is known for being a diva far beyond what she can perform these days. Let's be honest for a moment…Mariah Carey had a stronger voice than Janet Jackson hand down. Janet Jackson was no match for Mariah when it came to octaves. But these days Mariah Carey is more a "we remember when" kind of artist. I know some of you might think that's unfair to say based on the family Janet Jackson comes from…but the longevity of that family really is Michael Jackson and Janet Jackson.
Mariah is a headache diva that does not seem to adjust well with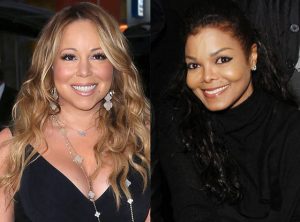 time. Her shows aren't that entertaining, and it seems like her voice is shot. Mariah Carey spends more time running around in too small clothes that shine trying to hold on to an era in her life that has passed. Honestly, I wouldn't pay a dime to see Mariah Carey in concert. I would prefer to remember her back when I loved her music and her voice was solid. Even on drugs Whitney Houston didn't sound as bad as Mariah Carey sounds these days. Granted maybe she just needs a break and a large supply of ginger root tea to get it together, but she needs to do something.
Janet Jackson, on the other hand, evolves and is true to her dynamic stage presence. It can be argued that she is still relevant to music today. On her last album, her voice actually showed development, and sounded seasoned. Janet Jackson is a grown woman and it seems she is more comfortable with who she is right now. It's a bonafide fact that Janet Jackson is an international superstar, and she may be difficult to work with…but we don't know that. She has a famous family, but she came out of Michael Jackson's shadow decades ago, and her other siblings can't touch her. Janet Jackson will be going back on tour, and so many fans are ready to see their icon on stage. They know she won't disappoint.
I have no idea if Mariah Carey and Janet Jackson know each other personally, but if Mariah Carey ever wants to be relevant again…maybe she and Janet Jackson should chat. Janet Jackson is still on fire…it makes me sad to think I see Mariah Carey as a has been. Mariah just feels like a waste of voice and talent.b
Staff Writer; Adonicka Sassy