Take it Out on the Gym.
(ThyBlackMan.com) There is so much going on in our country that is frustrating and frightening. Everyday there is doom and gloom on the news, and in our social media news feed. It seems there is no getting around stress and sadness. It's very easy to internalize our pain, and fears. That internalization causes us to feel unstable, anxious and can lead to depression. Though seeing a therapist is always an option it's not always economically feasible, and for some it's a last resort. It's been proven that getting out and adding positive movement to your life can help relieve stress.
When many of us think about the gym we are looking at our health in terms of our physical state. The gym, as we all know, offers many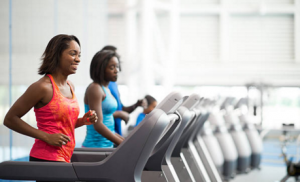 benefits when we are looking to get fit. However, the gym may very well be the answer to blowing off the stream that threatens to drag us to a dark place. A gym membership may be affordable where therapy may not be a financial option, and gyms tend to offer different programs. The different classes (kickboxing, cycling, Zumba, etc.) offer us the opportunity to have positive social interactions while working off the stress.
This approach is also positive when one is trying to work on controlling anger. Getting angry is a normal emotion triggered by many different situations. Having a place to blow off the anger steam is much better than holding it in which often results in taking such out on those we love. Sometimes we need to work up a sweat with the punching bag. Taking our frustration to the gym is a win on all fronts. Though it is important to acknowledge you may not initially feel like going to the gym when upset. However, it you allow yourself to work past the initial "don't feel like it" the endorphin's will kick in and take you the rest of the way.
Sometimes just being in the gym around others that are in the same space for many different reasons is a great motivation. Though some are loners there are many gym goers that love to socialize, and get to know other members. As you work off the negative energy you just might find yourself working out next to someone that has walked in your shoes, and can share some ideas on how to work through whatever has you down.
One thing that is a fact is the stress of the world is not changing anytime soon. We must learn how to manage sadness, anger, disappointment and overall negativity in a positive manner if we are not to be destroyed by such. Taking your issues out on the gym is a healthy way to turn a negative into a positive, and you may encounter a community that is willing to encourage and support you in the process.
Staff Writer; Christian Starr
May connect with this sister over at Facebook; https://www.facebook.com/christian.pierre.9809 and also Twitter; http://twitter.com/MrzZeta.