Khloe Kardashian, Lamar Odom pregnant, marriage, divorce & drug use in 2016.
July 29, 2016 by Staff
Filed under Uncategorized
(ThyBlackMan.com) It seems that Lamar Odom is causing the possibly pregnant Khloe Kardashian unnecessary strain, fear and further heartaches with late night drunken text messages and voicemails. We are definitely happy to see the ex NBA star Lamar Odom is back on his feet after a long night of cocaine use, pills and other drugs caused him to slip into a near fatal coma on October 13, 2015 at the Love Ranch Brothel in Las Vegas, Nevada. I will never forget the arrival of Khloe Kardashian and Kris Jenner as they took an emergency flight into town to visit Lamar Odom in the hospital, of course dressed in all black like the omen going to retrieve life from a victim.
A few days later on October 21st, Khloe Kardashian and Lamar Odom made the decision to stay together and give their marriage a second change, of course this decision was made while Lamar Odom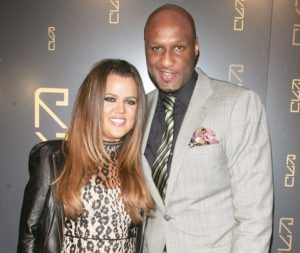 was on his death bed. Khloe Kardashian and Lamar Odom had their reality star lawyer, Laura Wasser, go before the judge to request that their divorce papers be withdrawn. The judged reportedly obliged the request and dismissed the divorce papers.
Just a quick run down, the divorce papers were intially filed by Khloe Kardashian back in December 2013 and sources close to Khloe say that she desperately tried to save her marriage with Lamar Odom for over a year and a half. On August 12th, Lamar Odom was said to ambush Khloe outside of her SoulCycle class at which time Khloe Kardashian decided to take matters into her own hands to put a rush on the divorce process.
Obviously a lot of events have taken place between December 2013 when Khloe Kardashian filed for divorce and the current restraining order saga the two are currently undergoing. According to Radar Online, the athlete is NOT taking their divorce well, and has been relentlessly harassing the 31 year old reality TV personality. According to a source close to Khloe, "Lamar Odom has totally lost it, calling her every name under the sun and yelling at her for breaking promises she made to him on his death bed".
Sadly reports have been surfacing over the past few months of Lamar Odom being spotted at bars around the Los Angeles areas and a few other reports stating that he has crack pipes in his house. Another source close to Khloe Kardashian claims that Lamar Odom "… has been bombarding her with bitter texts and drunken rambling messags that are starting to scare her". These drunken messages are the cause of the upcoming restraining order that Khloe Kardashian will soon be filing against Lamar Odom.
Do you think
Khloe Kardashian
had intentions to continuing working on her failed marriage with Lamar Odom after his near death coma or did she withdraw the divorce papers in order to reap wealth had the former NBA player died as expected? 2016 a crazy year yet there still is hope for this once in love couple. Some would even say soul mates.
Staff Writer; Brandy B.