Definition of Working Capital Loans, What You Need to Know.
(ThyBlackMan.com) Managing cash flow is important for any business.  Getting a working capital loan can be a great way to do this, especially in the short-term.  These loans can provide cash for payments or to fuel growth.  With a growing number options on the market, a working capital loan should not be ignored.
Yet many people are not clear about the definition of working capital loans.  To better understand these loans, we have to take a look at working capital.  In simple terms, it is the difference between the cash you have on hand and the cash you owe others.
Another way to look at it is the money you need to pay for the day-to-day activities of your business.  This could be paying a supplier, marketing costs, payroll, or any number of expenses.
Without it you won't be able to keep the lights on.  Forget about that new marketing campaign or even the prototype of your new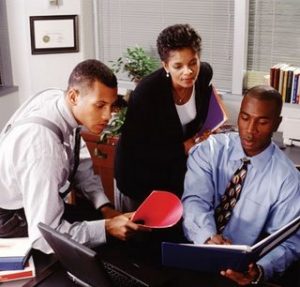 product!  Working capital is the grease you need to keep everything in your business working.
Personal Loans are not Working Capital Loans
For many business owners, the only loans they can get are based on their personal credit scores.  In some cases, they might even need to offer their homes or other assets as collateral.
This is not a working capital loan.  In fact, this is the opposite of working capital loan.  As you need to show the banks you have the money you need before asking for the loan.
This does not make sense and that is why working capital loans came into being.  Looking at the traditional banks loans will help us understand the definition of a working capital loan.  Banks need 2 years in business and excellent business and personal credit scores.  Also, application and approval processes can take forever.  Even worse, the banks will often ask for collateral.
A working capital loan is much more straightforward.  Some lenders only ask for 3 months in business history (usually bank statements), and damaged credit is allowed.  This is important as most people use their own credit in the early days of setting up their businesses.  The application process is more streamlined.  Approval usually happens within a day or two.  Payment terms are also easy and there are generally no restrictions on how the money is used.
What You Need to Know
Traditional banks are not the only option.  Looking at the definition of a working capital loan, the important part is "working".  Banks have forgotten this but, lucky for you, some of the people who used to work at these banks haven't forgotten.  A number of ex-bankers are setting up niche firms to help solve this funding problem for millions of business.
Your business can not survive without working capital.  Odds are you probably know this already.  Working capital loans can be a great way to help smooth your cash cycle.  Especially, when you need cash to grown quickly.
They have become so important that a number of choices for working capital loans have cropped up in recent years.  This is good news, as it means you have several options to consider when choosing the right financing option.
Get the Funds You Need
Growing faster than your competitors is not easy.  Even if your business is profitable, your cash flow cycle might be slowing you down.  To get the cash you need to today, you need an option which can suit your needs.  For millions of business owners, working capital loans are the way to go when they need short-term financing.
So where to start?  The best way to learn about which option best fits your business today is to reach out to the experts.  Find out about the terms of their loans and how the entire process works – from application and approval to payment.  In the end, the best choice is the one which gets you closer to your goals.  That is the purpose of a working capital loan – to provide you with the cash you need to keep your business healthy.
So don't wait any longer.  Find out how a working capital loan can give you the cash you need to take your business to the next level.
Staff Writer; Ben Weaver