Marcus Garvey Remembered: Lessons of Self-Love, Courage, and Perserverance.
(ThyBlackMan.com) No one remembers old Marcus Garvey — Burning Spears.
While many people have heard of Marcus Garvey, very few are aware of the magnitude of his accomplishments. Garvey was a visionary leader, industrious and one of America's greatest orators of the 20th century. He is rarely mentioned in the historical texts given to schoolchildren of African descent.
There are no holidays, memorabilia, famous speeches, or posters in high circulation about this great man. America is very selective about the heroes it allows its dark citizens to be exposed to. We are aware of the common names given to us during our childhood: George Washington Carver, Martin Luther King Jr., Fredrick Douglass, Booker T. Washington, and a sentence or two on Malcolm X. The majority of African American history seems to be centered on slavery and the civil rights movement.
Garvey's absence is strategic — for his message of self-love and self-reliance is so captivating and inspires the least of men become the greatest.
Marcus Garvey's role in American history is paramount, though the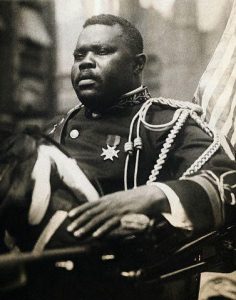 acknowledgement of his role is miniscule. Garvey, unlike the great men previously mentioned, was not born in America, nor did he receive a collegiate education. His rise as the leader not just of African Americans but Africans 'at home and abroad' seemed scripted from a Hollywood movie.
Garvey was a Jamaican immigrant who mastered his oratory skills on the corners of Harlem speaking atop soap boxes to anyone who would hear. He rose to be the spokesperson for Africans across the world, landing himself a top spot on the list of the Bureau of Investigation, now known as the FBI. His courage, ambition, and perseverance led him to accomplish the unthinkable in a short period of time. Marcus Garvey organized and centralized Africans worldwide with his message of self-sufficiency, love of self and of one's heritage, and "Africa for the Africans".
Garvey possessed unmatched resilience coupled with a monstrous ability to maintain confidence while subject to slander and the failures of his projects. His perseverance against trials and tribulations is an attribute all must copy from this great man. Garvey's greatest nemesis was W.E.B DuBois, who publicly criticized Garvey until his death, viewing him as a crooked criminal exploiting the wealth of his people with business ventures that would never materialize.
This is a part of the Marcus Garvey legacy I would like to clarify.
Garvey directly and indirectly caused his failures. Garvey's lack of knowledge of the industries he was trying to partake in left him open to exploitation by those who claimed to be experienced in those industries. This was evident in the problems he had when purchasing the famous 'Black Star Liner,' for which he tremendously overpaid. Garvey's organization— the U.N.I.A —was also heavily infiltrated by government spies who purposely did things that would create schism and strife within the organization, with numerous missions of sabotage.
Despite the intervention of detractors,  the Garvey Movement, became the epitome of self-sufficiency, owned hotels, restaurants, factories, transoceanic steamship lines, universities of higher learning, printing plants, publishing companies, newspapers, even civil services (employment offices, job training, passport services, and health care services), employing Africans across the world.
Marcus Garvey must be noted in the history books next to Martin and Malcolm as he, despite the lack of recognition, has done a greater work than Martin and Malcolm combined. His words are inspiring and empowering and his views on the state of Black Americans apply just as much today as they did in the 1920s when he was speaking in front of thousands of people in Madison Square Garden. Blacks today are still begging for employment, only to earn wages that do not allow one to afford the basic necessities in life.
I will not delve deep into the common complaints about begging another to speak more of Garvey. I will do my part of circulating and preserving the works of  this great leader. In doing so, may others do their part to learn and teach others about Marcus Garvey.
I recommend anyone reading this article to read the Philosophy and Opinions of Marcus Garvey. Apply its advice and see the change in your meditation and your life. Marcus Garvey provided self-worth and courage to a broken black race. He gave Blacks the courage to have dreams and aspirations and to put in the work for its manifestations.
Everyone should remember old Marcus Garvey.
Staff Writer; Linton Hinds Jr.
Official website; http://Livity.info/
Also can connect with this brother via Facebook; Livity, Livity.
Feel free to subscribe to his Youtube channel; I NEVER KNEW TV.