"Eight" Reasons Why Black Parents Are Homeschooling Their Kids.
(ThyBlackMan.com) There are currently more than 220,000 black kids that are being homeschooled by their parents in America.
Suburban parents homeschool their kids for mostly religious reasons, but here are 8 reasons why black parents are homeschooling their kids.
1. The Criminalization Of Black People, Manly Black Boys – 70% of students involved in in-school arrests or referred to by law enforcement are black
2. The Racial Profiling That Black Kids Face Daily In The Public School System – Mississippi has one of the highest amounts of black students being assaulted by educators in school. They also have the highest number of suspensions as opposed to their white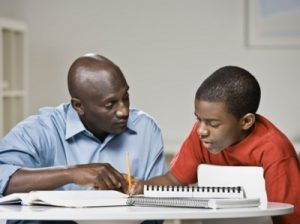 counterparts. Out of the 57,000 incidents that were reported, 42,000 were against black boys and 15,000 were against black girls.
3. The Mistreatment & Disrespect From Female Suburban Teachers – Many of the 85% of US Teachers that are women from the suburbs carry negative attitudes & stereotypes about young black kids, particularly black boys
4. Getting Beat Up By Security Guards In The Public School System – I remember reading a story about this young black girl who was playing on her cell phone that was racially profiled, beat up, & dragged like a ragdoll by this corrupt racist officer.
5. The Miseducation Of Black Kids In The Public School History Class – Like most black people when they were young & still today, the #1 thing I hated about my public school days was that I almost never heard anything about me or my people in the public school history books. More black kids are being pulled out of school because of being indoctrinated with toxic Eurocentric myths & lies.
6. Constantly Told By Female Suburban Teachers That They're Kids Are Not Smart – Many of these female teachers from the suburbs these days also bring very negative attitudes & stereotypes about black kids, particularly black boys that they're intellectually inferior, lazy, & borderline criminal.
7. Being Bullied By Other Kids At School – Another way black kids are harmed at school is by being bullied by other groups of kids, mainly suburban kids.
8. Co-Opted By Other Agendas – The public school system is being co-opted by other folks agendas destined to destroy our kids.
The Conclusion – Homeschooling is the best remedy to prevent putting your kids in an environment that is racially hostile, toxic, & destructive to their well being.
Staff Writer; Joe Davis
FB Page; http://www.facebook.com/joe.davis.165470