Retiring Wisely: Should You Rent or Own a Home?
(ThyBlackMan.com) Planning for retirement may also involve looking at your housing situation to determine if it the best choice for your current and future needs. The decision whether to own or rent during retirement has both financial and emotional aspects that should be considered. Here are a few points to keep in mind  as you explore your options:
Assessing Your Retirement Housing Needs
The first step for retirees is assessing their current and future housing needs. If you have raised a family in a four bedroom residence, you are likely to find that you no longer need that much space, and the high cost of maintaining such a large home no longer makes financial sense. Take a good look at how you use your living space currently and what you will need during your retirement years. You may require a guest room for family members that live some distance away. Many individuals have hobbies that require additional space for equipment and storage of materials. Each individual has different needs for retirement housing. These needs should be carefully evaluated when considering a change of housing.
Financial Considerations
At the heart of the decision whether to own or rent is finances. If you have a significant amount of equity in your home and find you need additional income for your retirement, it makes no sense to leave that equity lying dormant. If you're 62 and older you can consider getting a reverse mortgage where you can get a loan backed by your home's equity. The money could be put to valuable use in a secure investment, providing regular income that would allow you to travel, enjoy hobbies or indulge in other retirement activities. On the other hand, if you have sufficient income for retirement and hope to leave the proceeds from a home to your children, downsizing to a smaller property may be the best option.
The Security of Home Ownership
Many people who have owned a home for much of their adult lives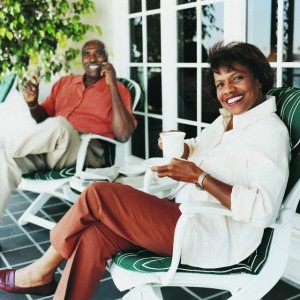 cannot imagine becoming a renter. They may feel that owning a home, even if smaller than their previous homes, provides a stability and security that is invaluable. However, owning property also means that you are responsible for the continued maintenance on the property, which often means significant expenditures on roofing or other home systems. Retirees should balance these costs when considering the decision to own or rent.
The Freedom of Renting
Renting offers a number of advantages that new retirees should consider carefully. Renting allows you to avoid the large maintenance costs that can occur when you own your own home. Renters also do not have to concern themselves with property taxes. Maintenance is minimal. If the possibility of moving to a different area is in your future, renting makes it easier to pull up roots and leave, without worrying about waiting for a good time to sell the home. A wide variety of housing types are available for rent. A reputable agency such as Gascoigne-Pees can help you to find the right residence for your needs.
Comparing Costs
The best way to begin to determine whether you should own or rent in retirement is to calculate what your income will be from government programs, company pensions and other sources. A number of calculators are available on the Internet to help you to determine what you can expect to receive. Review your savings, investments and other income sources that will be available during retirement. Next, you will have to estimate what your expenses will be during retirement. You will probably spend less more on clothing, transportation and other costs associated with working. However, you may need more money for travel, hobbies, entertainments and other activities you hope to enjoy during retirement. Calculate the cost of owning a home, including taxes, insurance and maintenance expense.  Renting a home will not require these additional costs, and you will have cash from selling your current home that you can invest for more income.  These calculations will allow you to clearly see the financial impact of both options.
The Downsizing Option
Retirees should also consider the many advantages of downsizing their housing needs after their working years. A smaller house generally means lower expenses for maintenance and energy, which can save money over the long term. Many retirees choose to sell their homes and purchase a smaller residence in cash, so that they can avoid having a monthly mortgage payment. Although this can be a smart idea, financial experts advise retirees to consider the advantage of offsetting income with their mortgage interest deduction. It may be advantageous to get a mortgage for at least part of the property's price for tax purposes.
Whatever your ultimate decision, you should contact a property sale and rental agency as soon as possible to see the housing options that will help you to make the most of your retirement years.
Staff Writer; Greg Allen