Rihanna, Chris Brown back together, Toxic Love or Nah?
October 30, 2015 by Staff
Filed under Uncategorized
(ThyBlackMan.com) It's been nearly 7 years since the infamous Chris Brown attack on Rihanna which happened just one night before the 2009 Grammy Awards. This horrific night resulted in Rihanna requesting a 3 year restraining order against the then 19 year old Chris Brown.
Since 2009, Rihanna has had her face plastered across television screens as the poster girl for domestic violence leaving Chris Brown a.k.a C Breezy to be painted as the monstrous abuser. This incident would later lead to Chris Brown not being able to tour Canada, Australia, New Zealand or the UK. In November of 2009, Rihanna stated in a  20/20 interview with Diane Sawyer, "The more in love we became, the more dangerous we became for each other, equally as dangerous", regarding her relationship with Chris Brown.
These days Rihanna and Chris Brown seem to be caught up in an on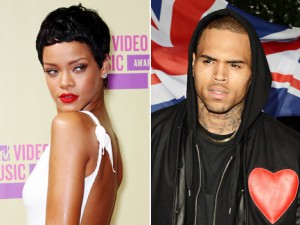 again, off again relationship which has close friends and fans of Rihanna wondering if Chris Brown is the best choice for her. Even sources close to Kanye West have came forth saying that back in August, West told Rihanna she'd be a 'fool' to get back in a relationship with Chris Brown. West even added that Rihanna deserves a man who will love her as much as he loves Kim Kardashian. Let that sink in as we move along!
In this month's edition of Vanity Fair, Rihanna explained that she thought she was that girl who could change Chris Brown, that she was his guardian angel. Rihanna also stated " It's in the past, and I don't want to say, 'Get over it', because it's a very serious thing that is still relevant, it's still real".
No doubt both Rihanna and Chris Brown have grown since 2009. Chris Brown is now the proud father of 1 year old Royalty. C Breezy has proven he is capable of using his words to settle disputes, as he and the mother of Royalty recently reached an agreement to co-parent their gorgeous daughter. Chris Brown has finally reached a point in his career where he could move forward without apologizing for his 2009 actions. Chris is even acting as somewhat of a life coach and inspirational speaker to his ex-girlfriend Karrueche Tran.
I must wonder if time and growth will place Rihanna and Chris Brown as the next, young power couple. What are your thoughts: is this a toxic relationship or nah?
Staff Writer; Shawna Brown