Calling All Dads: Tips for Handling a Custody Battle.
(ThyBlackMan.com) Going through a custody battle with your ex is never an enjoyable experience. No father ever wants to lose quality time with his children, but a divorce and a custody battle are going to change your relationship with your child.
When you are going through a divorce, it's important that you keep your child's needs and best interests in mind, especially when it comes to child custody cases. If you are currently going through a custody battle, the following are a few tips to keep in mind.
Try to use a mediator first.
Sometimes your custody battle can be resolved without going to court. A mediator is a court-approved professional who works on behalf of your child in order to create an agreement between you and your ex regarding custody. A mediator will take into consideration a multitude of factors, such as income, housing, career, etc. in order to create the best possible agreement. Sometimes the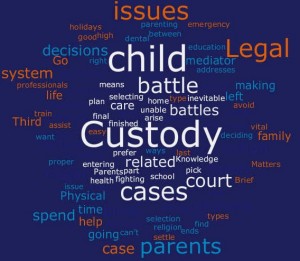 mediator will help you and your ex create a joint custody agreement in which you both get equal amount of time with your child. Other times the mediator may create a sole custody agreement. Either way, the option is less time consuming and less expensive than going to court, so if you and your ex can put your child's best interest ahead of your own, a mediator can be a great asset.
Hire a great child custody lawyer.
If a mediator is out of the question and you and your ex are going to court, be sure to hire a good child custody lawyer to work on your behalf. This individual will be able to better assess your case and know what type of outcome you can be expecting. For example, if you're a good citizen with a good job and a good relationship with your child, your attorney can help you get joint custody of your child with your ex. If you are the better parent and your ex has a history of abuse or violence, your attorney may be able to get you sole custody of your child. Again, your lawyer will need to review your case, but you'll want to ensure you choose someone you know and trust.
Know the laws in your state.
Child custody laws vary by state, so it's important to have a basic understanding of what you can expect. For example, some states use an income-based approach when considering child support payments. In this scenario, the income of both parents is examined, and the amount of child support due (if any) is determined on whether or not there is a significant difference between parental incomes. In some states, though, the noncustodial parent will pay a certain percentage of their net income in child support regardless of the other parent's income.
The laws also vary on custody issues. For example, in some states, a child 14 or older can choose which parent he or she wants to live with, while in other states, a child has no say whatsoever. By researching the laws in your state, you'll have a better understanding of what you can expect.
Staff Writer; Greg Hall