Beyonce pregnant, 2015 pregnancy no Jay Z divorce.
March 31, 2015 by Staff
Filed under Uncategorized
(ThyBlackMan.com) It is not easy to remain happy in a marriage and maintain conjugal harmony when both the man and woman are celebrities. Several star couples have failed to retain happiness and togetherness and the latest couple that might be heading towards splits villa is Beyonce and her spouse, Jay Z. Since they tied the knots in 2008, the couple has been depicted as an example of ideal star couple by the media. However, last year rumors of cracks in the rock solid wall of their marriage started circulating. Now, the latest speculation gaining buzz is Beyonce pregnant with another child.
Jay Z's infidelity caused divorce buzz now losing steam
Not many days ago, page 3 magazines and gossip columns were rife with spicy news on alleged infidelity of Jay Z. The rapper reportedly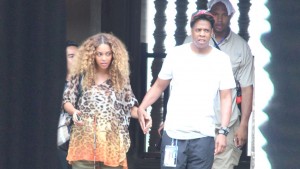 had a liaison with Rihanna and that led to the crack in his relation with his singer wife. The news of his love child also made a few headlines. However, with the Beyonce pregnant rumor becoming strong, the infidelity rumor is losing steam.
What actually sparked the pregnancy buzz?
The latest activities and public appearances of Beyonce have contributed much to the Beyonce pregnant rumor. Earlier this year, the singer-actor posted an Instagram image in which she was covered with sand. The image was indicative of a baby bump and it started the gossip about her second pregnancy. Latter in February, the star couple attended the LA Lakers game and Beyonce wore a dress that covered up her body well. The rumor mills also indicate at the latest baby being a boy. If that is true Blue Ivy Carter will become a proud sister! Reportedly, Beyonce and her spouse flied off to Cambodia and Thailand to celebrate the event.
The pregnancy helping the marriage survive
Despite all those possible separation rumors, it seems the pregnancy news has gained prominence. Beyonce pregnant with another child is big news and that has nearly overshadowed the separation buzz. It can help the rocky relation survive, say people close to the star couple.
Beyonce getting full cooperation and support from Jay Z
The media sources suggest, this pregnancy has made Jay Z more caring about Beyonce. Reportedly, he is doing everything best in his capacity to keep the singer wife in happy mood. The infamous elevator scuffle between Jay Z and Beyonce's sister Solange hogged media limelight a lot. Since then, Beyonce has tried a lot to portray an image of happy marital life to media and fans but rumors still spread about their separation. Now, the Beyonce pregnant buzz has grown strong and Jay Z is trying his best to make the relation work.
Was it all a pre-planned hype?
A section of industry watchers feel, all those infidelity, and relation breakup buzz were actually crafted by the star couple. This may not be impossible given the fact, celeb couples resort to every possible tricks to gain limelight these days. The Beyonce pregnant buzz may make things fall in place.
Staff Writer; Sherry K.