Are Parents the Root Cause of Addictions? Cold & Flu Season.
(ThyBlackMan.com) The war on drugs is in full effect within this society! Parents, schools and communities are constantly encouraging young people to stay away from drugs such cocaine, meth, ecstasy and even marijuana. I too feel our young people should stay away from any drug or substance that alters their brain or disturbs their physical body functions.
For me the war on drugs goes further than the corner drug dealer and into the local drug stores as well as hospitals and doctor offices.  We shouldn't run to a pill bottle or grab the syrup every time we hear our children cough or each time their body temperature rises. Many think that over the counter drugs are harmless, we rarely consider what we are teaching our children each time they feel pain and we medicate them with some type of drug. Many hate the term "drug", they choose to limit the term to substances purchased on the street as if the government agency built to study and approve medications isn't called "The Food & Drug Administration".
What message are we sending our children when we give them a straight dose of syrup, the same syrup rapper Lil Wayne sings his heart out about in "me and my drink". The difference is we as parents give syrup to our children straight while those who sip syrup use Sprite as a chaser. As a lover of Lil Wayne's song I must admit, I can recall a few years back when my daughter had a severe cold. While at work my mom had to take her to the emergency room. Once I returned home my mother had gotten the prescription filled and my daughter had taken her first dose. She was laid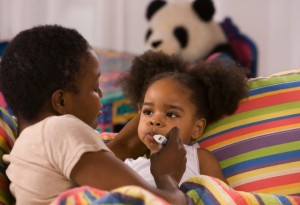 out in the bed comatose!  Going back to look at the prescription bottle and seeing it was Promethazine (codeine) with the warning label "not for children under the age of 6". I quickly realized baby girl was 7 years old and experiencing her first high. Her and her drink!
I remember saying hmmm, let me take the prescribed dosage and add a little Sprite to mine. Baby girl and mommy down for the count! Many of you would say what the hell? I say know what you are giving your child! Don't give your children anything that you are not willing to take and experience for yourself. Needless to say, the bottle went in the trash and I began down the to path of natural healing and wellness.
While some illnesses do require medication, we can offset many diseases by treating the root cause of the problem. It's like trimming tree branches to deal with a leaves problem. Yes, you'll have a leaves free season, but next year or the one after the problem will reoccur.  When we treat our symptoms, we mask the root problem leaving time for it to grow stronger without our awareness.
As we enter into the cold and flu season let us remember that this illness doesn't require us to drug our children. The effects of the cold & flu season can be lessened with preparation.  By getting our physical selves prepared for the cold weather, we build up our immune system to better combat the bugs that tend to float around this time of year.
Call to mind those late 80s/early 90s anti-drug PSAs when the parents would walk in the room on their children doing drugs or find drugs in their children's room and after fussing at them, the child would yell "I learned it by watching you!".
Some children are more prone to addiction than others, in my opinion they are the children who have been popping pills and turning up syrup bottles since the docs told their parents they were old enough. Remember one doesn't have to go to the street corner to be an addict, many have are battling addictions to prescription meds today and even more have died as a result. Let's strive to keep our youth healthy, well and drug free across the board!