Beyonce: She's Boss!
February 28, 2014 by Staff
Filed under Uncategorized
(ThyBlackMan.com) I am the first to admit I'm a huge fan of Beyoncé Knowles-Carter.  Mrs. Knowles-Carter, simply known to us as Beyoncé has been making headlines since her disbandment from her group 'Destiny's Child' in 2005.  She is a musical genius, a dancer, actor, and everything in between, but more importantly she is the mother of  Blue Ivy Carter, who has just celebrated her second birthday this year.  But all worshiping aside, some of you might recalled that just recently Beyoncé had become a target in the media after she appeared on stage at the Grammy Awards on January 26, accompanied by her mogul husband, Jay-Z.  After her performance at the Grammy Awards she received some negative backlash from the media because she was dressed in a provocative outfit while performing on stage with her husband in front of millions of viewers.
Following the Grammy Awards, one writer for the New York Post penned a piece, 'Jay-Z a poor excuse for a husband'  where she bashed the pop diva, and in my opinion accused the songstress of stripping on stage for her husband. Yes, her husband!  You might say, there was a little media uproar.
" Your body confidence, your empowerment, is admirable, and really does have a place in the beautiful, evolving feminist fight that we find ourselves in. However, it is not about picking and choosing your moments; not at this level. Trivialising domestic violence, standing by your man whilst he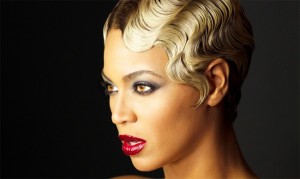 makes Anna Mae's cake sound like something you want to eat, is not OK," wrote Ellie Slee in an article, Beyonce Must Have Her Feminist Cake and Eat It Too for the Huffington Post.  Slee also called out Beyoncé on a piece the singer wrote, Gender Equality Is a Myth!  for the Shriver Report, and basically expressed that the piece was (for lack of better words) a joke!
But if you are like me, you are probably rolling your eyes in the air, and thinking to yourself: who cares! In my opinion, this was much to do about NOTHING! Yes, I rolled my eyes. Why, because it was crazy!  I mean she's Beyoncé!  SHE is synonymous with sex! Furthermore, it pays to remember that she and her mogul husband are a 'BRAND,' and they have made countless videos together dating back to the very beginning of her career.  If anything, this is exactly what I expected from Beyoncé, and the best part was (if) she was stripping, she was doing it with her husband on stage. I mean, let's stop the madness!   As if that was not enough, around the same time the media was giving Beyoncé a lashing, some in the media were talking about  the First Lady Michelle Obama and her apparent affection for Beyoncé.  Needless to say,  the First Lady also received backlash from the media especially when her tweet about the singer being, "great role model for our youths today," resurfaced.
If you ask me, I believe people in the media who criticized the First Lady, Mrs. Obama  for saying that Beyoncé was a great role model for our youths missed the point. I believe the point was simple: anything is possible through hard work and determination.  And there's no doubt in my mind that Beyoncé is the hardest working woman I know in the music biz.  If you are a fan, then you know that back in January Beyoncé put out a whole album on I tunes, complete with music videos on YouTube.  I don't know about you, but that tells me she is smart about her money, in control of her empire, and nothing is done without her say so.  Watch her video album cover on YouTube and you'll probably come to the same conclusion.  She is Boss!
All in all, I always find myself shaking my head when I read bad reports about Beyoncé, because I'm thinking the BOSS is laughing all the way to the bank.  Just look at her album sales for the first week it came out! To finish, I'd like to put my idol-worshiping robe back on, and say, "I am a grown woman and Beyonce inspires me!"  'Brand' aside, I agree with the First Lady without hesitation.
Staff Writer; LadyK
Gossip/Ent. Tips and Feedback to; LadyK@ThyBlackMan.com