Praiseworthy: Mike Grier blazed trail on ice for African Americans.
(ThyBlackMan.com) At some point during the mid 1990s, while working in the Detroit Free sports department, I told a colleague that my favorite hockey player was Mike Grier.
The colleague was a bit surprised by my statement because I had never shown much interest in hockey.  Afterwards, the colleague began tapping away on his keyboard and about two minutes later he said:  "Now I see why you like Mike Grier!"
Indeed, Mike Grier was unique in his sport.  Born in my hometown of Detroit, but raised in Boston, Grier is generally recognized as the first African American player born and trained in the United States to make it to the National Hockey League.
Grier did not have the impact on his sport as Tiger Woods has had on golf.  However, Grier certainly touched the players who played with and against him, and in the case of the opposition, his forceful play often left a lasting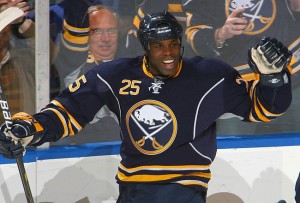 impression.
Known more for his defensive play and toughness, Mike Grier still registered 162 goals and 221 assists in 1,060 regular season games.  Grier's 14 NHL seasons, included stints with the Edmonton Oilers, Washington Capitals, Buffalo Sabres and San Jose Sharks.  Prior to the cracking the NHL, Grier was a member of a collegiate national championship team at Boston University.
It was Grier's career at Boston University, and the media coverage that came with, which made me say his name proudly to my colleague so many years ago.  I must admit that a part of me was hoping that Grier would dominate his sport in the same way a young Tiger Woods dominated golf.  However, I now understand that Grier's career represented the power of opportunity, which is far greater than stardom.  The most that any of us can ask for is a real opportunity to participate and do our best in an endeavor of our choice. Mike Grier had his opportunity in professional hockey and he did not waste it.  As Grier said in his retirement statement: "I was very fortunate to be able to play 14 seasons in the NHL with some great players.  The memories and friendships that I have built during my time in the league will last a lifetime…"
I was reminded of Grier's retirement while watching the United States women's hockey team compete in the Winter Olympics.  During one of the broadcasts an announcer said that the players on the women's team honed their skills by scrimmaging a group of former NHL players, including Grier.  I must confess that Grier's retirement announcement was not even on my sports radar, when he gracefully exited the game in 2011, but he is back in my consciousness now. 
I will think of Grier as more African Americans continue to enter the NHL, including the Nashville Predators' rookie standout Seth Jones, the son of former NBA player and current Indiana Pacers assistant coach Ronald "Popeye" Jones.  When hockey has its first African American superstar there is no doubt that Mike Grier will be mentioned as a catalyst, but his career also should be remembered for providing hope to any youngster or adult who dares to take a road less traveled.
Staff Writer; Scott Talley
This talented journalist is owner of a public relations firm; Scott Talley & Associates, Inc….