Praiseworthy: Bob Love – Southern U star shined brightly in Windy City.
(ThyBlackMan.com) Bob "Butterbean" Love has not been enshrined in the Naismith Memorial Basketball Hall of Fame, but he was one of the sweetest shooting forwards to ever put on a uniform.
The former Southern University standout led the Chicago Bulls in scoring for six consecutive seasons during the 1970s en route to being selected to three NBA All-Star teams.  Love was a member of the most successful Bulls teams prior to Michael Jordan's arrival, and the 1975 squad finished just one victory shy of reaching the NBA Finals.
However, Love, a native of Bastrop, La., travelled a difficult road to NBA stardom. In 1965 Love graduated from Southern as one of the leading scorers in the nation, but was not selected until the fourth round of the NBA draft by Cincinnati.  Working against Love was his small black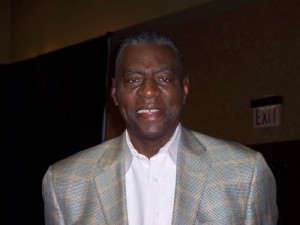 college background and a severe stuttering problem.  Love was cut in training camp by Cincinnati and played in the Eastern League while waiting for a second chance at the NBA.
Love's second chance would come the following year, and this time he made the Cincinnati team in 1966, and following two seasons Milwaukee selected him in an expansion draft.  But despite an outstanding 1968 preseason, Love was told he had no future with Milwaukee because he did not communicate well.
At a low point, Bob Love received a blessing from the basketball gods and was traded to Chicago during the 1968-69 season.  A glorious run with the Bulls came to an end when Love injured his back in 1976. He was traded to Seattle and cut the following year.  Forced to find a new place in the world, Love returned home one evening following back surgery to find his wife gone along with most of his valuables.  In their place was a note from his wife proclaiming: "I don't want to be married to a stutterer or a cripple."  Shortly afterwards Love would become a dishwasher and busboy in a Nordstrom's department store restaurant. 
Broken, perhaps, but certainly unbowed, Love overcame his speech hurdle with help from John Nordstrom and a dedicated therapist named Susan Hamilton.  Through therapy, determination and humility, Love later became a motivational speaker to give hope to others facing obstacles, particularly children. 
Studying Love's playing career provides an introduction to other African American basketball legends.  At Southern, he faced great Grambling teams led by Willis Reed, before Reed's Hall of Fame NBA career.  Once Love arrived in Chicago, he formed a devastating forward tandem with Hall of Famer Chet Walker.  And the 1975 Golden State Warriors—the team that denied Bob Love an opportunity to play in the NBA Finals—was coached by Al Attles (North Carolina A&T) who would became the second African American head coach to win a NBA title that same year.  As rich as Love's basketball journey was, learning about his heart and spirit provides deeper enrichment.   A message that can be taken from Love's life: Never give up on yourself and we all have the power to make it happen!
Staff Writer; Scott Talley
This talented journalist is owner of a public relations firm; Scott Talley & Associates, Inc….