Book Release; Kingonomics – Author Rodney Sampson.
(ThyBlackMan.com) Business lessons from the inspiring life of Dr. Martin Luther King, Jr.
New book released For Martin Luther King, Jr. Day 2013 
"[Rodney] Sampson has developed a creative use of King's principles, using his high moral standard to suggest best practices for business. He raises some prudent ideas worth our consideration."
—Rep. John Lewis (D-Ga)
While Dr. Martin Luther King Jr. is often remembered for his dream of and fight for equality and freedom for all, many do not realize how keenly focused he was on economic issues. Dr. King believed that without economic opportunity, we do not have the chance to pursue happiness. It was, in fact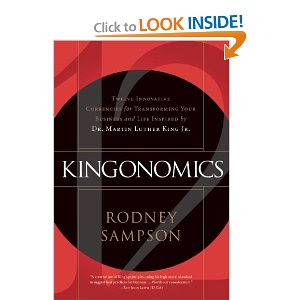 , while planning the Poor People's March, a dramatic stand on economic issues, that his voice was forever silenced. In his final book, Dr. King posed the question, where do we go from here?—a question many of us are asking in today's unpredictable economy.
The answer lies in Kingonomics: Twelve Innovative Currencies for Transforming Your Business and Life Inspired by Dr. Martin Luther King Jr. (BenBella Books, January 2013), a timely release around Martin Luther King, Jr. Day on January 21, 2013. Kingonomics is a 21st-century interpretation of Dr. King's economic vision translated through the eyes of Rodney Sampson, a globally established economic innovator, business developer, and highly successful serial entrepreneur. 
With 12 currencies (including service, innovation, and reciprocity), Sampson takes pertinent ideas from the life of Dr. King and, by combining them with real-life experiences, produces a guide through which one can realize their full potential and personal power. Success does not discriminate, and the road map to it is contained in the pages of this revolutionary new work.
Purchase book over at Amazon; Kingonomics (——
Book Details
Title: Kingonomics
Subtitle: Twelve Innovative Currencies for Transforming Your Business and Life Inspired by Dr. Martin Luther King Jr.
Author: Rodney Sampson
Publisher: BenBella Books, distributed by Perseus Distribution
Publication date: January 1, 2013
ISBN: 978-1-936661-08-4
Price: $24.95 US/$27.50 CAN
Format: Trade Cloth
Page count: 240 pages
Trim size: 5.5 x 8.25
Media requests; Jennifer Canzoner
Email; jennifer@benbellabooks.com
# 214-750-3600, ext 104
Available at bookstores everywhere and through Perseus Distribution.
Toll-free number for orders only:
1-800-343-4499
For more about Kingonomics and to connect with Sampson online:
Official Website; http://Kingonomics.org
FB; http://Facebook.com/KingonomicstheBook