Finding My Barack: Why the Prez is Beloved by Black Women.
(ThyBlackMan.com) Barack Obama is more than the nations' first black President and, although he is the husband of the first lady, Michelle, Obama is now a prototype of the Prince Charming that many black, single women long for, and, apparently, cannot find.  The prez has now inspired a new generation of single women who are looking for Mr. Right; that man, whoever and wherever he may be is, in the eyes of these women, 'my Barack'.  Is there a 'Barack' for every 'Michelle'?
The answer lies in our willingness to cut through the malicious milieu of stereotypes and assumptions about black men associated with under-employment, the penal institution and other issues – stripping away the distortions – and understanding there may be a 'Barack' right up under your nose.
To be sure, Barack Obama's stature – and his sex appeal – vastly supersedes that of many black celebrities and entertainers from present and by-gone eras, including Billy Dee Williams, Denzel Washington and the rapper Nellie.  Why is this? He is a ladies' man! Not in the same vein as the smooth-talking, nocturnal-stalking, slickster intent on copulating with as many women as possible, but rather that he possesses the sterling assets that most women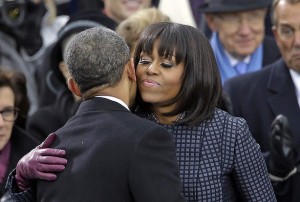 desire in a man. 
One, he possesses personal qualities – integrity, intelligence, commitment – that most women find elusive in the available pool of black men.
Two, the prez effuses about his wife in a sincere, envy-invoking manner that brings tears to the eyes of the single, mate-seeking sista, who would love to be in the First Lady's shoes.  I mean if you do not know what being in love looks like – just look at the First Couple!
Lastly, Obama has scaled the pinnacle of the American experience without losing his mind at a time when many young black marriageable men have succumbed to self-destructive lifestyles.  He is the penultimate representation of what one writer has described as the 'preferred black male.'
Nevertheless, there are both drawbacks and rewards to Obama's statuesque appeal among the single-sista elite.
Rewards: When we transfer Barack Obama from political type to romantic figure, clearly the prez sets a new standard for black men.  Moreover, while there are plenty of men who love on their mates as powerfully as Obama, images mean something, especially in our culture.
The picture of a black man as wholly committed to one woman so lovingly makes even the most notorious of playas take note.  Moreover, the romantic ideal, of which the prez is a supreme representation, will induce men to do better, to come more correctly, and to articulate that ideal in their interaction with women.
For so long now, men have trumped the numbers when it comes to the ratio of the black sexes. 
Obama's appeal may change that.  The prez is now evoking a new image of monogamous possibilities (to the extent that men may actually begin a journey of 'finding my Michelle'). 
That is huge, because as so often is the case in our culture, what we see most of usually sets the trend (what images, after all, did Clinton and Kennedy conjure?).  Scandal notwithstanding, the Barack effect could actually lead to more men giving fidelity an honest shot.
Drawbacks:  A psychoanalyst may argue that most women are drawn to qualities in men that mimic that of their fathers.  With the advent of the Barack and Michelle, however, we may want to toss that notion aside.  'I'm looking for my Barack' is now the rallying cry!
However, that comes with its own inadequacies.  Women may be attracted to men with Obama-like characteristics, but they may also overlook men who indeed may be 'Barack' material, but lack in areas such as height, sex appeal and educational attainment. Or, he may be – God forbid – a nerd!  In short, these men would make excellent mates, but may not measure up (especially in light of the bravado some women are attracted to in so-called 'bad boys').
Let us face the facts: sistas have always had high (some would argue too high) standards.  Obama's meteoric appeal may exacerbate that even further.  If the prez as romantic figure has zero defect (he even reportedly gave up smoking), then how will the brother on the elevator, in the mailroom, the truck driver or any blue-collar bro fare in the always-shifting opinion of black sexual politics? 
In the world of shifting imbalances in the ratio of the black sexes, are there enough Baracks for every Michelle?  It depends largely on what each individual is looking for, but it depends even greater on the degree that we are in possession of those superlative qualities we seek in another.
Staff Writer; W. Eric Croomes