FBI investigating Chavis Carter's death while in Jonesboro police custody.
(ThyBlackMan.com) The FBI is investigating the death of Chavis Carter who is the latest victim of US drug policy and another Black person killed by police.
The Jonesboro police department is taking the stance that the 21 yr old Black man shot himself in the right temple while handcuffed behind his back. The victim's mother says that her son was left handed and she does not believe he could or would take his own life. Chavis Carter's mother reported that her son had gotten off the phone with his girlfriend shortly before his detention and said he would call her from the jail.
The Jonesboro police department recently released a "re-enactment" video to convince the public that Carter could have committed suicide. Chief Michael Yates calls the shooting bizarre and logic defying but is standing by his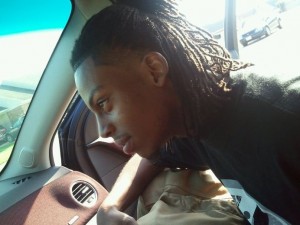 assertion that Chavis Carter somehow shot himself. The department claims to have witnesses that saw the event from start to finish and he said he has watched the dash cam video that support that the officers were outside the car when the small caliber weapon fired killing Chavis Carter. Despite two body searches, officers only found a small amount of marijuana but not the gun they are implying belonged to Chavis Carter.
If indeed, Chavis Carter's death is the result of a freak accident or doubtful suicide, Chief Yates would be well advised to allow the Carter's mother and an attorney to review the dash cam videos and talk to witness. As time goes by public outrage righteously grows considering the staggering numbers of Black people being killed by cops.
There are no FBI press releases on the matter but local media in Arkansas are reporting the FBI is looking into the case.
The FBI office in Little Rock, Arkansas recently got a new special agent in charge. Randall C. Coleman had been chief of the counterespionage section of the FBI headquarters in Washington, DC but was appointed to the position in Arkansas in May.
Whatever the result of either investigation, the Jonesboro Police are responsible for Chavis Carter's death. When a person is in police custody and has been incapacitated as Chavis Carter was with his hands locked behind his back, they are responsible for the safety and wellbeing of that person.
Staff Writer; Scotty Reid
To join this brother Black Talk Radio Movement feel free to visit; BT Radio Network.
Also connect via Facebook; Black Talk Fan Page.