Blue Ivy Carter, Beyonce/Jay Z Black Features Really?
(ThyBlackMan.com) You would fully expect that in the year 2012, black people would not have a problem looking black.  But you would never guess that after seeing the reactions that many people had to seeing public pictures of Jay-Z and Beyonce's daughter, Blue Ivy Carter.  The photos of the little girl emerged, with the baby looking as beautiful and precious as one can imagine.
But of course, when you put your baby out into cyberspace, the haters are going to emerge in full force, like an army of Cavity Creeps in a Crest commercial, all looking for blood.
People began analyzing the baby's face and noticing that she looks like (surprise!) her father, Jay-Z.  Jay-Z doesn't have the same Eurocentric features that Beyonce is known for.  Actually, when Beyonce had her skin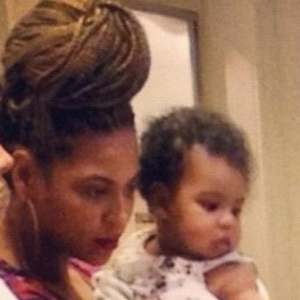 lightened, I thought I was looking at her friend, Gwyneth Paltrow.  Jay-Z's ancestors were born on the other side of Africa, and perhaps his great, great, great grandmother didn't have the "honor" of getting that late night visit from "massa" to lighten up his gene pool.
In all seriousness, Jay-Z has those pre-Michael Jackson features that so many of us still seem to dread:  Big lips, the wide nose, and all the other things that make him look (gasp!) African American.
Writers at  Clutch Magazine took note of the matter by citing some of the remarks by readers in social media:
Beyoncé really screwed up, having a baby by Jay-Z. His nose and lips are never going to look right on a girl.
Let's pray Beyoncé's genes kick in as B.I.C. gets older. All the money and talent in the world won't take away from having Jay-Z's features.
Nappy-headed kid. Wish Beyoncé had married a nice-looking man instead of Jay-Z.
Writer Akiba Solomon wrote on Colorlines about the issue as well:
I knew if indulged in even a smidgen more about this little girl, I'd find myself walking among stunted souls who traffic in the idea that the full lips, large eyes, broad nose, and dark brown skin of a Jay-Z is inherently ugly […] I hope, in our media-saturated, appearance-obsessed society that is still so wounded by white supremacist aesthetics, baby Blue Ivy Carter will find peace and joy in the simple act of living, no matter what she looks like.
I think that most of us can agree that there are a lot of fools and idiots on the Internet.  The platform that has Democratized media for the masses allows us to hear from every hack, jerk, pervert and racist with access to a computer.   So, we have to be careful about extrapolating these remarks and somehow believing that the few comments we've grabbed on our Facebook page are accurately reflective of some systemic perception that exists all throughout America.
At the same time, these remarks show us that there are some deeply disturbed people in our community.  Even when I see 200 comments on my Facebook page, usually one out of every 10 remarks comes from a person that makes me want to send them to a priest and a good psychologist.   There are some scary people out there, and it's sad that there are still some in our community who are convinced that white is right and black is whack.  But fortunately, I optimistically believe that this does not represent the majority.
The bottom line is that Blue Ivy Carter is a beautiful child.  She might be over-hyped and treated like she's the black baby Jesus on steroids, but that doesn't  mean that she isn't blessed with two parents who love her dearly and who also seem to really love each other.  Given that she's been blessed with such a strong endowment of empowered love, I consider her to be one of the luckiest kids on earth.  
We should love all of our kids with the energy as Blue Ivy Carter's parents, and the days where the little "light-skinneded," long-haired girl gets all the preferential treatment must come to an end.  #NoSlaveMentality2012.
Staff Writer; Dr. Boyce Watkins