Corporate black media and why black people are not very serious…
(ThyBlackMan.com) Why are black people perceived to not be very serious? The quick and less obvious answer is media. A quote I heard this year says,
"Our people are very serious…about not being very serious" – Dr. Kamau Kambon.
I first heard this while listening to the popular internet radio program "The Context of White Supremacy" and it has stuck in my mind ever since. The quote is the most accurate social commentary on what I have observed passing itself off as an informed black media. In case you have not heard the news, which is doubtful since the n-word was allegedly used, some person posted a Facebook status message calling for the "nigger" President Obama to be assassinated including his "monkey" family.
Due to social media programming, black people continue to act "shocked & awed" when some white person is alleged to have used the n-word. Once the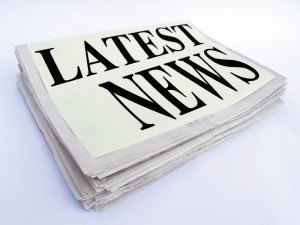 n-word has been introduced, a brainwashed mind trained to react to certain triggers loses all reason and will ignore any important underlying context in which the shocking trigger word was used. For an example, a black person's life may be saved when just before stepping into the path of a speeding bus, a white person yells, "hey, look out for that bus". What would occur under the same scenario when the white person instead yells, "hey nigger, look out for that bus"? Would it affect that black person's reaction time? Could they process life saving information requiring a split-second decision on whether to take another step into the street or would they be distracted and delayed by the trigger word nigger instead of looking out for that bus? The n-word may stop them in their tracks as they look back to see who used such a terrible word.
For a real world example, take what was recently submitted to Google News as news targeting a black audience. A NewsOne blogger recently wrote a post titled "Ron Paul Supporter: "Assassinate N-Word Obama And Monkey Children". It would be news if it simply listed the factual allegations but the writer, who has written about Ron Paul before, undeniably is on a mission to prove allegations that the current GOP front-runner inIowa is a closet racist. He connects Ron Paul to the alleged racist because the man has  posted to the Facebook Fan Page of Paul. He regurgitates old news about ghost written articles appearing over twenty years ago in a newsletter published under Paul's name. From what I have learned listening to The Context of White Supremacy is that all white people are suspect and may consciously or sub-consciously be practicing white supremacy. What I have learned from reading more articles about politics than about entertainment is that there are many black people who help to uphold the global system of white supremacy consciously and sub-consciously.
Casey Gane-McCalla, lead blogger for NewsOne, part of media magnate Kathy Hughes Empire, writes,
"Jules Manson, a former candidate for city council inCarson,Californiaand enthusiastic Ron Paul supporter  wrote "Assassinate the f#@#en n-word and his monkey children" in a Facebook post."
Gane-McCalla goes on to write that Paul and Jules Manson is connected to a nameless Tea Party group and frequently cites that he is an ardent supporter of Ron Paul. Ron Paul has actually turned down a number of invites to Tea Party events. Not once does the writer attempt to give underlying context for alleged racist Manson's Facebook tirade. Interestingly research on the writer reveals he is known in the rap community for his video "White Girls" which is a classic piece of white supremacy propaganda embedded in hip-hop but that's another article for another time.
The New York Daily News also wrote about the story. There is a marked difference in the way the story is reported on a website targeting different audiences. Most of the articles on so-called black websites are focused on the racial animosity angle.
The New York Daily News audience learns that, Jules Manson, "urged the sickening reprisal, saying Obama's support of a revised military authorization bill last week was an act of "treason" that "eroded" constitutional protections."
The military authorization bill that President Obama is expected to sign into law does in fact render due process protections, the civil rights contained in the Bill of Rights null and void. The News One article completely leaves out that major detail.
A logically thinking mind reading this story would be alarmed most about losing the important civil protections that define theUnited Statesas a free society. An illogical brained washed mind is alarmed most about a white man calling "their" black President a "nigger" and his family "monkeys". It should also be noted that in addition to speaking out loudly against the loss of these civil liberties for all American citizens, Ron Paul said President Obama committed an impeachable offense when he issued a kill order on an American citizen without due process.
After doing a quick search of the recentWashington news section of NewsOne, I could not find any articles related to any of President Obama's controversial decisions that fly in the face of the rule of law. In fact, there was one story that celebrated Obama's prowess at killing terror suspects and their children.
At a time in American history when administration after administration pushes to grab unprecedented power for the executive branch, bringing the nation closer to the brink of dictatorship, it is painfully obvious that a huge segment of black people are not being very serious about the serious issues confronting us today. Civil wars have erupted for less.
Dr. Kamau Kambon was once a big story in the news media and labeled a racist when he suggested that white people must be "exterminated" because they want to "kill us". The news media did not ask him why he thought white people wanted to kill black people or what evidence he held that supported his claim. The brainwashed mind only focused on "white people must be exterminated" and not the assertion that "white people want to kill us". I am not suggesting that Dr. Kambon is right in his assessment that the extermination of white people is the solution to stopping global white supremacy, but one thing I will agree with him about is his assessment that many black people "are very serious about not being very serious".
Staff Writer; Scotty Reid
To join this brother Black Talk Radio Movement feel free to visit; BT Radio Network.
Also connect via Facebook; Black Talk Fan Page.