Solyndra loan, Obama and the GOP…
(ThyBlackMan.com) The Solyndra debacle has shown us average Americans how buddy-buddy American politics really is in its relationship to wealth donors and big corporations. It has shown us that the democrats are no more concerned about the needs of the average citizen as well as the two-facedness of the GOP. Last week, republicans jumped all over the 2009 decision by the Obama administration to provide the solar energy corporation with a $535 billion dollar government loan and the subsequent fact that the company filed for bankruptcy. Republicans have used this platform to move further to criticize the administrations "clean energy" projects as a viable means to create jobs across the nation. However, they fail to mention that behind closed doors, the request and receive funds for their state from that very same program.
For example, although Republican Representative Lamar Smith of Texas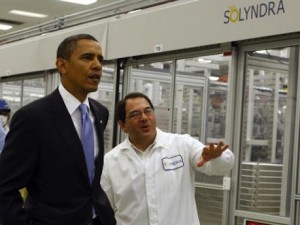 recently requested the office of the Attorney General to appoint an investigator to determine how the department of Energy doles out clean energy funding, in 2009 he wrote the Secretary of the DOE to approve loan guarantees from stimulus money for the Texas based Tessera Solar. Then there is Senator Mitch McConnell, who called the clean energy program a bust. McConnell, of Kentucky, has worked tirelessly to get income for clean-energy projects in Kentucky, including writing Energy Secretary Steven Chu to approve $235 million in sovereign loans for a plant to build electric vehicles in Franklin in 2009.
In fact the more one looks the more hypocrisy that can be isolated. Another Republican, Sen.
David Vitter said that the Obama administration was "reckless" for subsidizing renewable-energy projects, but the Louisiana Republican wrote to the Energy Department at least seven times since 2009 for clean energy funding for projects that would benefit his home state. One of which for a company that makes activated carbon to reduce pollution at coal-fired power plants at a $245 million lick (loan guarantee). Specifically he wanted a loan approved for Red River Environmental Products of Coushatta, La. Vitter's next door neighbor, Rep. Cliff Stearns, R-Fla., who heads the House Energy and Commerce subcommittee and chairs a subcommittee investigating the Solyndra deal, also has backed clean energy jobs. Sterns wanted money for the Saft America plant (makes lithium-ion battery cells for military hybrid vehicles and solar and wind energy storage) in Jacksonville. For his efforts they received a $95.5 million grant from the Energy Department. He was also able to obtain $125 million for New Planet BioEnergy, a biofuel refinery plant.
True, the Solyndra loan had been fast-tracked by the Obama administration to get it approved in time for a scheduled visit to the California plant by Vice President Biden. But if McConnell and other in the GOP leadership are upset at the Obama administration for wasting more than half a billion dollars on the California company, then he has to come to grips with what they sees in the mirror. I am sure I could have mentioned a few more, like Rep. Darrell Issa's own involvement in clean energy loans or GOP Representative Fred Upton of Michigan. Funny, if I can find this in the public domain, I wonder why Obama can't or better yet, why doesn't he call them out on their hypocrisy. The only thing I can think is that either he is scared of white republicans or he just doesn't have the testicular fortitude to stand his ground. It shouldn't be too hard to point out that what they hammer him on regarding Department of Energy loan guarantee for Solyndra, Inc.; they are doing the exact same thing. Strange how politics work.
Staff Writer; Torrance Stephens