Jay Z, Kanye West redefine Black Wealth.
(ThyBlackMan.com) Since the release of their collaborative album, Watch the Throne, Jay Z and Kanye West have received some criticism for their ostentatious display of wealth at a time when most of the country is dealing with the hardships of a recession. Their showboating rhymes have inspired a discussion about the need for the millionaires to tuck their wealth, as well as an Otis-sampling response from hip-hop great Chuck D, in which he calls on his colleagues to "reflect the people better". Indeed, the album is laden with remarks about expensive cars, jets, vacations and the like; it's what Kanye  West aptly dubs "luxury rap." While this kind of braggadocio may seem particularly inappropriate during an epoch of economic hurt, I can accept it for what it is as far as pop music goes — well-produced, self-aggrandizing rap about things most people can only enjoy vicariously. It's when the proponents of "luxury rap" try to posit their having and spending large amounts of money  on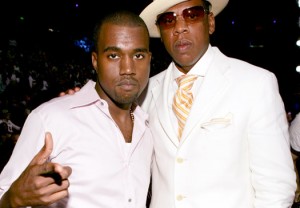 superfluous things as something more, however, that I tap the brakes on the imaginary Maybach. What is this I hear about black excellence?
One of the tracks that gets cited as a pillar of "consciousness" on the album is "Murder to Excellence," a two-part number that segues from a lamentation on black-on-black murder into what Jay and 'Ye deem to be "a celebration of black excellence." The first half of the track is peppered with mentions of Black Power Movement orator and icon, Fred Hampton ("I arrived on the day Fred Hampton died / Uh, real n*ggas just multiply"), and 20-year-old Pace University student, Danroy Henry Jr., who, like Hampton, was shot and killed by police. Throughout this part of the track, Jay Z and Kanye West successfully conjure up the energy of protest, embodied by their straightforward lyrics, the staccato drumbeat and the a cappella vocals that dance over it. "Power to the people. When you see me, see you," Jay Z proposes.
I was riding on a wave of pride — in the rappers' boldness and the content of their message — when I came to a disappointing halt in my enjoyment of the track.
"It's a celebration of black excellence. Black tie, black Maybachs," Jay Z announces as the track swiftly shifts into a different rhythm. He then delivers a verse about what he introduces as "black excellence, opulence, decadence," with the inevitable line about his American Express black card. Kanye tags on some less boastful (and seemingly more thoughtful) bars, which include his customary momma-i-made-it affirmation of success by way of access: "In the past if you picture an event like a black tie / What's the last thing you expect to see? Black guys."
What started out as valiant social commentary has declined into a drab, somewhat sulky exaltation of "the new black elite."
Complete with Kanye West signing off at the end of his verse ("black excellence, truly yours"), the latter half of the track finds the two rappers positioning themselves as representatives of black excellence — positions they are worthy of, apparently, by virtue of their material wealth. This depiction of black excellence as a matter of entrance into the echelons of the super rich is divergent from, and discordant with, the tradition of black struggle that they reference on this track as well as elsewhere on the album: Malcolm X, Betty Shabazz, Corretta Scott and Martin Luther King Jr. dawn the chorus of the next song.
One of the principal themes of the black power tradition that Kanye and Jay Z continually evoke is that of collective struggle. The figures they name, while not identical in their ideologies, did believe in international solidarity amongst oppressed communities, and in empowerment from the bottom-up. "Power to the people" was about the oppressed, the disenfranchised, the proletariat coming together to access their power. "The people" are common, and they are excellent, as individual activists, educators, intellectuals, and workers, and as an organized whole. How do the people fit into Jay's and Kanye's plutocratic vanguard?
Experience best DJ equipment to create your own mix for podcasts, slide shows and parties.
With the talk of tuxes and sheepskin coats that plagues the supposedly "excellent" half of "Murder to Excellence," the track morphs into a claim on black excellence that is decidedly elitist, and frankly, incongruous with the philosophies of the movements and the thinkers that are celebrated elsewhere on the song and album. Whereas the track begins as a memorandum of black struggle, it ends in a conundrum. "Murder to Excellence" may sound like a tribute to black struggle, power, and excellence, but it is a departure from the true meaning of the rhetorical symbols it's couched in. By resting on the lavishness of their lifestyles to define their excellence, Kanye West and Jay Z make it clear that it will depend on "the people," the over 94% of us who can't gloat over multimillion dollar assets, to "redefine black power" and name the future of black excellence.
Written By Victoria Coats
Official website; http://twitter.com/djjalen