William Reed; Armstrong Williams Where Are You?
(ThyBlackMan.com) Back in the day, Armstrong Williams proved to be one of the most recognizable conservative voices in America. He possessed a pugnacious and provocative style, and Williams stayed on point when expressing his viewpoints. Most importantly, he provided conservatives and Christians with what they longed to hear.
In the 1990s, Williams' colloquies regarding Black Americans received national attention by pointing out that high percentages of African-Americans actually hold conservative views. Williams also noted, "political leaders dupe Blacks and persuade high numbers of them to swap their votes for Democratic handouts."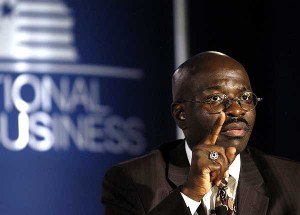 On the book scene
Today, after hitting some bumps along the road, Williams is back on the national scene with a new book that talks about his current attitude and perspective. Chronicling his personal journey through purgatory, the conservative African-American political commentator has written "Reawakening Virtues: Restoring What Makes America Great."
In his new book, Armstrong Williams calls for "a renewal of basic virtues that have gone by the wayside in today's world." Drawing on his upbringing in South Carolina, Armstrong discusses pertinent issues such as the sanctity of life and the virtues of capitalism. In the book, Williams discusses traditional virtues from a Christian perspective and ultimately argues for a revitalization of American society, politics and culture by updating the values of our founding fathers and bringing them into the 21st century.
It was that "conservative" and "Christian" persona that got him in trouble. In 2005, Williams acknowledged that he was paid $240,000 by the Department of Education to promote its initiatives on his syndicated television program and to other African-Americans in the news media.
Not unusual
According to his subcontract with a public relations firm that had a contract with the Department of Education, Williams was required to broadcast two one-minute advertisements in which Education Secretary Rod Paige extolled the merits of Bush administration's educational program, No Child Left Behind. That disclosure of payment set off a storm of criticism from Democrats over the Bush administration's spending to promote its policies to the public.
Neither deal new to the way business is done in Washington. While no other contractors who participated in the deal were chastised, Armstrong bore the brunt of criticism. He said, "The liberal elite despise Black conservatives. I am a conservative who does not know his place. If I were White, they wouldn't care."
Lots to write about
Williams has a lot to share. A 1981 graduate of historically Black South Carolina State University, Williams is a third-generation entrepreneur and Republican who was reared on the family's South Carolina tobacco farm with nine other siblings.
Throughout his career, Williams has had friends in high places. He served as a special assistant to current Supreme Court Justice Clarence Thomas when Thomas was chairman of the U.S. Equal Employment Opportunity Commission. Williams started his broadcasting in 1991 at WOL, Radio One's flagship station. By 2002 Williams rejoined Radio One hosting a monthly primetime television special on the TV One cable network.
A combination of his faith and travails, Armstrong Williams uses "Reawakening Virtues" to discuss a conservative code of conduct that illustrates his strong character.
Written By William Reed
Mr. Reed William Reed is available for speaking/seminar projects via; BaileyGroup.org.