10 Energizing Breakfast Ideas…
(ThyBlackMan.com) Did you eat breakfast today? If your answer is yes—good job!—you've already done something great for both your health and your waistline. Studies show that those who eat breakfast eat fewer calories and less saturated fat throughout the day, as opposed to those who skip that morning meal. Breakfast eaters also tend to have flatter abs and a lower risk for heart disease.
Of course, not all breakfasts are equal. The ideal morning meal is one high in fiber and chock full of calcium, along with some whole grains, protein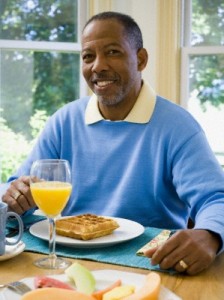 (including eggs and dairy) and fruit to keep energy up and weight down.
If you want quick, healthy breakfasts you can whip up before dashing out of the house, post this list of 350-calorie meals on your fridge door. Get set to rise and shine—and slim!
Speedy Weekday Breakfasts (about 350 calories each)
1. Breakfast Burrito
Cook 1 Amy's Breakfast Burrito as directed on package. Top with 2 tablespoons plain nonfat yogurt. Serve with 1 orange. Bacon, Egg and Cheese Sandwich
2. Order one Starbucks Reduced-Fat Turkey Bacon and Egg Whites English Muffin sandwich.
3. Cream Cheese, Fig and Nut Wrap
Roll up a whole-wheat wrap with 2 tbsp light cream cheese, 4 dried fig halves and 2 tbsp chopped walnuts.
4. Cherry-Vanilla-Almond Smoothie
Blend together 1 cup frozen cherries, half a medium banana, 1 cup skim milk, 1/2 cup plain nonfat yogurt and 1 tbsp sliced almonds. Add a few ice cubes to make it more frothy.
5. Strawberry Almond Oatmeal
Prepare 1 packet instant plain oatmeal with 1/2 cup skim milk instead of water. Top with 3/4 cup frozen strawberries, thawed; 2 tbsp sliced almonds and 1 teaspoon brown sugar.
6. Apricot, Almond and Ricotta Toast
Spread 2 slices whole-wheat toast each with 2 tbsp part-skim ricotta and 1 tsp apricot preserves; top each slice with 1 1/2 tsp sliced almonds.
7. 5-Minute Egg and Smoked Salmon Sandwich
Crack 1 egg into a microwave-safe bowl. Cover with a paper towel and microwave until egg is cooked through and not runny. Layer 1 wedge The Laughing Cow Light cheese, egg, 2 oz smoked salmon and 1/4 cup raw baby spinach on a Whole Wheat Arnold Sandwich Thin. Serve with 1 large apple.
Leisurely Weekend Breakfasts (about 350 calories each)
8. Portobello and Pesto Egg Scramble
In a medium sauté pan, cook 1 sliced portobello mushroom cap with 1/4 cup chopped red onion in 1 tsp olive oil until soft, about 5 minutes. Whisk 4 egg whites with 1 tbsp water and add to pan. Scramble mixture over medium heat until eggs are no longer runny; add salt and pepper to taste. Just before removing from heat, fold in 1/4 cup shredded part-skim mozzarella and 1 tsp prepared pesto. Serve with 1 slice whole-wheat toast.
9. Peanut Butter Waffle-wich
Top one toasted whole-grain waffle with 2 tsp peanut butter, 2?3 cup sliced apples and a sprinkle of cinnamon. Top with another whole-grain waffle. Serve with a café au lait made with 4 ounces coffee mixed with 4 oz steamed skim milk.
10. Spinach and Smoked Gouda Egg Sandwich
Sauté 1 cup fresh spinach with olive oil cooking spray until wilted (add pepper and garlic powder if desired); set spinach aside. In same pan, fry 1 egg plus 1 egg white in cooking spray until no longer runny. Top eggs with 2 tbsp shredded smoked Gouda. Sandwich eggs, cheese and spinach between 2 sides of a toasted whole-wheat English muffin. Serve with 1 orange.
Written By Lorraine Jones