President Joe Biden and California governor Gavin Newsom team up kind of.
(ThyBlackMan.com) Breaking: Gavin Newsom is making a 2024 run. Or is he?
At Joe Biden's request, the California governor will reportedly attend the second Republican primary debate as part of Biden's re-election efforts. For the sake of pushing back against Republican "lies," Newsom also plans to debate Florida Governor Ron DeSantis on Fox News come November.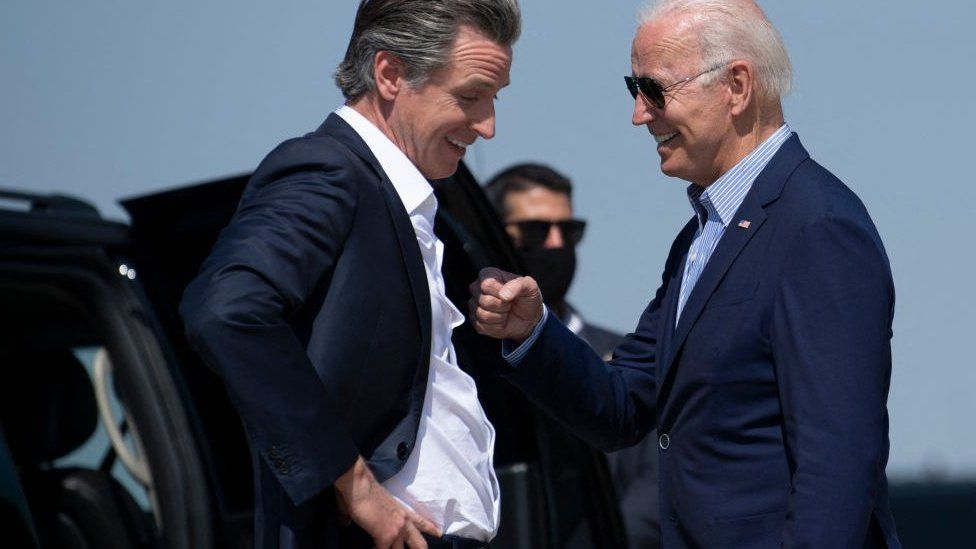 What exactly is the Democrats' strategy? To replace Kamala Harris as Biden's running mate? To replace Biden himself? They are kidding themselves if they they that black female Democrats are going to go along with the party if they kick Kamala to the curb for Gavin.
Whatever the case may be, Newsom's debate attendance is a tactic that can only backfire. Democrats play the California card at their own peril, promoting a state that is in the midst of a historically unprecedented decline.
Biden and Newsom may complain about the "extreme MAGA base"—and the more than 74 million Americans in it. They may call their political opponents "liars," but the numbers don't lie.
In California, there is no positive record to tout. I know: I was born and raised in California and I still live there. As a California resident, I've seen firsthand how decades of Democrat rule have turned the Golden State, for many, into an unaffordable dystopia.
This isn't just some Republican talking point. I love California, so I'm not trying to be needlessly negative. Under Newsom's leadership, our state's population declined for the first time since its founding in 1850, when the Gold Rush unleashed the largest migration in U.S. history. Today, fewer Americans are "California dreamin'" than ever before, frustrated and angered by Newsom's failed leadership before, during, and after the COVID-19 pandemic that saw the state government trample on individual liberties in horrific ways.
People won't forget Newsom's hypocrisy on social distancing, not when he ignored it to dine at luxury restaurants. People won't forget Newsom's vacations in states on his own alleged "no-fly list," not when they saw their beaches and businesses closed by the heavy hand of government.
If people do indeed vote with their feet, the votes of Californians are clear: They're running to the exits. Ever since Newsroom was elected governor in 2018, cities like San Diego, San Francisco, and my hometown of Los Angeles have been losing residents with no respite. In total, that comes out to a net decline of nearly 900,000 state residents in recent years, and counting. Newsom's "leadership" has set California back so far that current projections expect zero population growth until 2060, while the likes of Florida and Texas count their blessings.
So what is Newsom's response, other than blaming Republicans with virtually no power in state government? Alleviating the tax burden for cash-strapped Californians? Cutting red tape to help entrepreneurs and create jobs in high-poverty areas? Addressing crime and homelessness rates that have hit record highs?
No, no, no. It is to educate elementary school students about LGBTQ pride and "systemic racism," and then fine the schools that refuse. Is that supposed to be the Left's winning platform in 2024?
California deserves better, and Americans deserve to be spared the Newsom nuisance. The "California dream" is so dead that I have written an entire book about it, titled As Goes California: My Mission to Rescue the Golden State and Save the Nation. Coming out in November, the book highlights a wide range of solutions to the problems created by detached, cynical Democrats over the decades—from the epidemic of fatherlessness to unfettered illegal immigration and a crime wave that would make George Soros proud.
I won more than 3.5 million votes in California's 2021 recall election because millions of people—even in California—are sick and tired of Newsom's unaffordable dystopia. Many Californians know that, with the right leadership, the state can enter a new golden age. Unfortunately, many more tolerate a status quo with no winners but those in power.
On the national stage, Americans can't afford to make the same mistakes as California, and they won't. Newsom is America's most out-of-touch governor, and his national appeal is nonexistent for a reason. The more Biden hitches his wagon to an unpopular hypocrite, the less appealing he becomes too—and that's saying something.
Insert Newsom's radical leftism into the 2024 race, and only Republicans will reap the benefits. Perhaps that is a light at the end of the Biden tunnel. Unfortunately for my fellow Californians, their nightmare goes on.
Columnist; Larry Elder
Official website; http://www.larryelder.com