Film Review: John Wick: Chapter 4.
(ThyBlackMan.com)
(***1/2)
Artistic, balletic and acrobatic violence separates the John Wick franchise from other action/crime/thrillers. That ritual continues as the hitman's hitman discovers friends can be foes and foes can be friends.
John Wick (Keanu Reeves) is a badass, hired killer. He works under the mandates of a clandestine council, "The High Table." The group of 12 crime lords reigns over the underworld's most ruthless paid terminators. Wick is at odds with the governing body, shunning protocols and ignoring ultimatums. This time he's gone too far. The Table has put a bounty on his head. Assassins can make millions murdering him.
Old friends aid and hide him. The Bowery King (Laurence Fishburne), head of a covert intelligence network, gives him tips. The proprietor (Ian McShane) and concierge (Lance Reddick) of the New York Continental Hotel, a safe haven for assassins, protect him.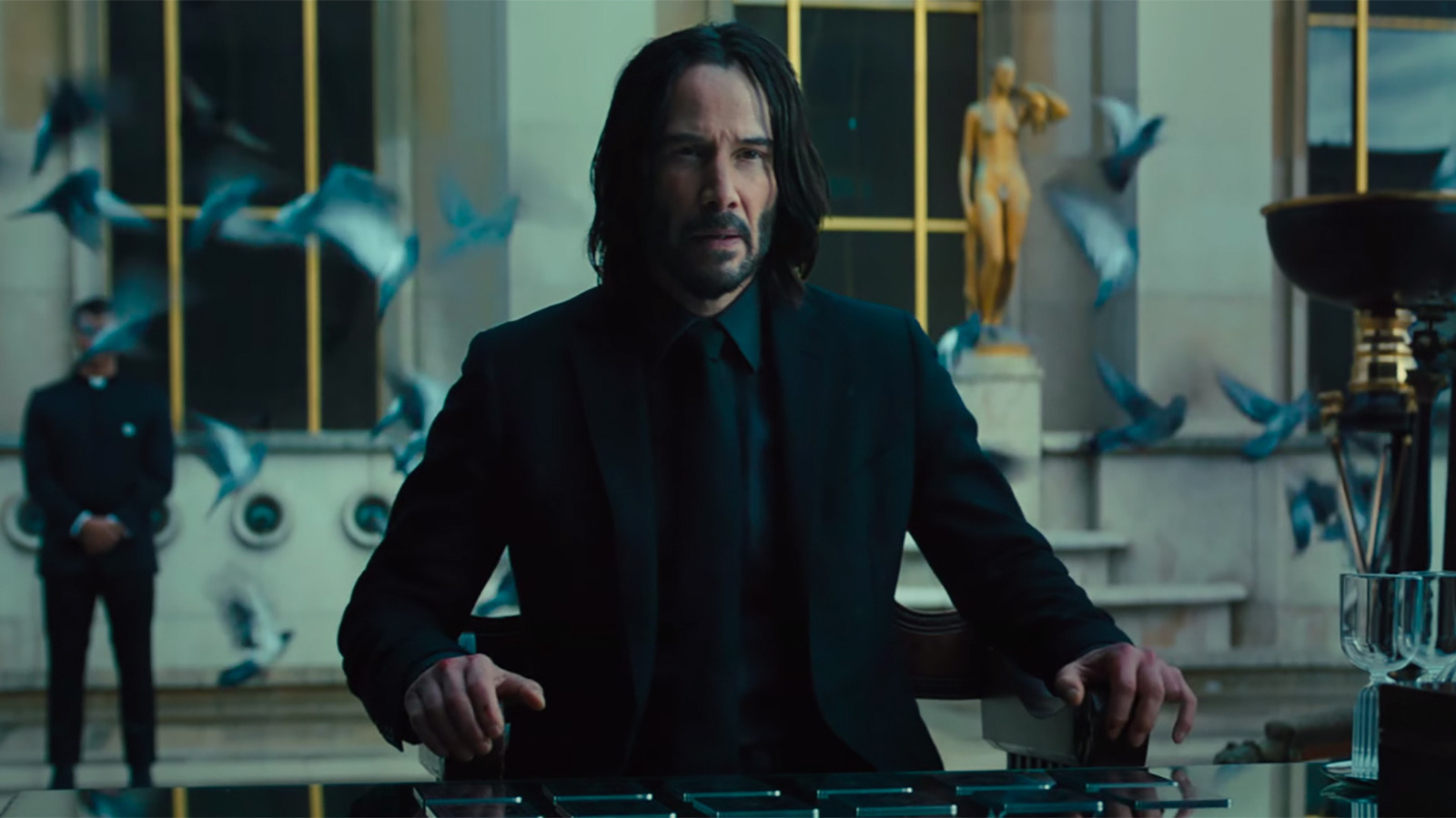 Wick seeks refuge with his old ally Shimazu (Hiroyuki Sanada, Bullet Train) at his Osaka Continental Hotel, against the man's daughter's (Rina Sawayama) better judgement. Even Wick's fellow hatchet man Caine (Donnie Yen, Ip Man) hunts him. Caine: "You're going to die." Wick: 'Maybe not." That betrayal was coerced by The Table's evil, relentless emissary Marquis (Bill Skarsgärd), who continues to up the bounty—$18M to $40M. He kills anyone who gets in his way.
Seconds into this chapter people are killed. Minutes into the movie ingeniously choreographed fight scenes portend what's to come. The script by Shay Hatten and Michael Finch adds complication on top of complication. Murders on murders. Bullets fly non-stop. Fist fights don't end until someone is pummeled to death.
Normally this kind of non-stop savagery would become overbearingly repulsive. But as directed by Chad Stahelski, who helmed previous Wick chapters and was a stuntman, the visuals are so heady, the tumbles, punches, flips and gunfights so over the top viewers will sit in amazement laughing nervously. They expect no less from this series, and this episode delivers in the most imaginative ways.
The settings range from New York, Jordan and Japan to Berlin and Paris. The geographic scope is so vast it competes with the international locations in Mission Impossible and James Bond films. That global flair should entice American, European, Middle East and especially Asian markets where Yen and Sanada are superstars.
Sequences in an airplane hangar-sized Berlin disco where patrons dance wildly as a gun/fist fight erupts are electric. Overhead shots when Wick battles adversaries through rooms in a building catch the eye. Car chases, guns blazing and auto crashes on streets around the Arc de Triomphe are mind blowing. But the astonishing carnage truly crescendos during the bloodbath on the 200+ steps leading up to the Sacré-Coeur Basilica. That's the wow moment. The money shot. That's when the direction, photography, stunts and acting show off and hit nirvana.
The emotional struggles between the characters run deep. When the betrayals between friends and colleagues look like they will be the centerpiece, the script throws a curve ball. A duel is proposed, with strict rules: "Failure to meet at sunrise will result in execution." This Burr-Hamilton plot device threads all the chaos together and herds it into one direction and provides an extra momentum that will reenergize audiences and steer attention away from the film's 2h 49m length (editor Nathan Orloff).
The evocative settings are interesting to watch because the interiors and exteriors (production design Kevin Kavanaugh, The Dark Knight Rises) are magnificent, the palette of colors flourish (art directors Emil Birk, Gilles Boillot, Karim Kheir) and the characters parade around in slick, tailored bullet-proof suits (Paco Delgado, Les Misérables). The cinematography (Dan Lausten, The Shape of Water) meticulously frames everything.
Reeves, Yen and Sanada are obvious superstars. Shamier Anderson (Dear White People) as the mysterious Tracker, an ambivalent interloper with a trusty German Shepherd, adds a humanizing factor to the mayhem. Sawayama, as Shimazu's daughter Akira, is mesmerizing in a fight scene where she mounts a behemoth assassin, knives in hands, stabbing him as he climbs steps until she pierces his neck delivering the coup de grâce.
JWC4 is an elaborately choregraphed, gorgeously crafted slaughter fest. A blood-thirsty spectacle. A circus of scoundrels fighting to the death in the most gracefully violent ways.
In select theaters March 24th.
Trailer:
Written by Dwight Brown
Visit NNPA News Wire Film Critic Dwight Brown at DwightBrownInk.com.