Colson Whitehead's Growing Oeuvre Continues adds The Nickel Boys.
(ThyBlackMan.com) Colson Whitehead is quite the eclectic writer with an equally as impressive resume. Raised in Manhattan, Whitehead is a graduate of Harvard University where he studied English and Comparative Literature. After graduation, Whitehead wrote reviews for television, books, and music for the Village Voice, the New York Times, the New Yorker, New York Magazine, Harper's Bazaar, and Granta. He also taught at the University of Houston, Columbia University, Brooklyn College, Hunter College, New York University, Princeton, Wesleyan University, and was a Writer-in- Residence at Vassar College, the University of Richmond, and the University of Wyoming.
As a writer, Whitehead has written a copious amount of work to date. His first novel, The Intuitionist (1991) is a book of speculative fiction about a large city populated by skyscrapers requiring vertical transportation in the form of elevators. The novel was selected as a finalist for the 1991 (Poets/Essayist/Novelist) PEN/Hemingway Award, as well as the winner of Quality Paperback Book Club's New Voices Award that same year. His second novel, John Henry Days (2001) was an investigation of the steel-driving American folklore legend. It was a finalist for the National Book Critics Circle Award, the Los Angeles Times Fiction Award, and the Anisfield-Wolf Book Award. In 2003, a book of essays, The Colossus of New York, followed – winning the New York Times Notable Book Award that year. Whitehead's next novel, Apex Hides the Hurt, tells the story of an unnamed Black "nomenclature consultant" who sells "apex" bandages that are available in custom made shades to compliment the various skin tones found in the African American Diaspora in the Midwest – winning 2006 PEN/Oakland Award.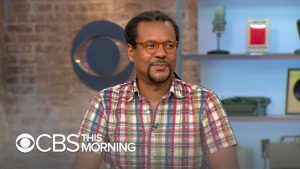 Sag Harbor, a Bildungsroman novel, is a semi-autobiographical work about Whitehead's teenage years in the summer of 1985 in the Long Island suburb. Sag Harbor was also a finalist for the 2009 PEN/Faulkner Award. Zone One (2011) is a dystopian/post-apocalyptic tale centered on a city much like NYC, and became a New York Times bestseller. Another work of nonfiction The Noble Hustle: Poker, Beef Jerky & Death, a gambling memoir, made its debut in 2014.  The 2017 Pulitzer Prize winning author of The Underground Railroad penned an alternative history take on, or historical fiction account of, two slaves (Cora and Caesar) on a Georgia plantation who make a run for freedom via a network of rail transport systems, safe houses, and secret routes. In his latest novel, The Nickel Boys, Whitehead continues his exploration on issues of race and social injustice.
Whitehead recently told the CBS Sunday Morning Show that his last two novels were about race due to the fact that very little has changed in terms of race relations in the U.S.  in his almost 50 years of existence. When asked why he chose such a disturbing subject to write about he answered with, "I hadn't written a story like this about Black kids in the Jim Crow South. So as an artist, there's material there, and just as a human being living in America trying to make sense of where we are going and where we came from," he explained.  With The Nickel Boys, Whitehead shines an unflinching light on the redacted racial terrorism in America, as well as its penchant for ignoring the sins of its past and legacy of recidivism.
The Nickel Boys is based the Florida School for Boys, also known as the Arthur G. Dozier School for Boys. The novel is a fictionalized account of abuse at the now closed reformatory school in Eleanor, Florida – the state's panhandle.  The grand idea behind the reform school was equipped students with educational instructions, as well as introduce its wards to farming techniques. However, the school quickly devolved to a living nightmare of its segregated inhabitants.
The story is loosely based on the life Jerry Cooper who was 16 years old in 1961 when he was sent reformatory for running away and hitchhiking. Cooper was picked up by an AWOL (absence without leave) U.S. Marine driving a stolen car, and was charged with car theft. "We weren't bad kids. We might have needed help in some respect, but that wasn't the place to find it, "Cooper relates to Associated Press reporter Phil Coale on NPR's All Things Considered in 2012. Whitehead learned about the legacy of the racially segregate Dozier School through the Tampa Bay times, when a team of archaeology students at the University of South Florida were excavating a site on the now defunct campus. The students found a secret graveyard that had been erased from the state's history than contained the remains of what is thought to be former students.
According to Ron Charles, "Whitehead novel opens with a similar announcement about a state investigation into crimes once committed as the shuttered reformatory school." The reform school was known for its harsh conditions and brutal treatment. Cooper said that he did his best to stay out of trouble, but after a few weeks he was a victim of a vicious beating. Taken out of his bed at 2am, to a place referred in real life, as well as the novel, as the White House. Cooper was tied to bed and whipped with a leather strapped nicknamed "Black Beauty. The story is revolves around two main characters, Elwood Curtis and Jack Turner.
Elwood is a strong willed, intelligent, hardworking yet naïve and self-righteously earnest black teenage growing up in panhandle of Eleanor, Florida in the 1960s which was instrumental locally during the first wave civil rights movement. Elwood strongly believes in the teaching of the Reverend Dr. Martin Luther King, Jr., and has two goals so far in his young life: to visit Fun Town, an amusement park open to white patrons only, and to one day to be a contributing force in the civil rights movement.  By contrast Turner is a street wise frequent ward of the state who has learned early on to survive by his wits.  He has an understanding of institutions, like the Nickel Academy and its rules.  Turner is doggedly pragmatic, and is looking to navigate the sometimes unforgiving system and make his way out alive. Turner also tries to help Elwood adjust to harsh realities of life in the academy. A loner, or individualist, Turner advises Elwood to focus his energies on himself and earning the merits required to get out.
Jennifer Marie Lin names the novel as one of the most anticipated books of the year and a taunt read with just over 200 pages.  the Dozier School for Boys operated for over a century and allegedly offered a more enlighten approach to treating troubled and orphaned boys It provided by educational instructions on learning as well as introducing students to farming techniques. Renamed the Nickel Academy for Whitehead's fictionalized account, however good the intentions may have been at the start, matters quickly devolved into a systemic abuse that included torture, rape, and murderer.
Staff Writer; Gustavus Betts
One may connect with this brother on Facebook; G. Betts and Twitter; Gustavusb.