A Crude Spectacle: White Obsession and Blackface.
(ThyBlackMan.com) Blackface seems to be making resurgence in 2019, or it might be more fair to call it a continued surgence. It could be argued that white people have a certain obsession – for good or bad – with Blackness. It also could be argued it's because Black people are the creators of everything culturally significant. I would argue that blackface is a dysfunctional form of praise through debasement in an attempt to miminalize our contributions to American culture – as well as cultures worldwide. The (un)art form of blackface peaked in popularity during the 19th century. A tradition in American theaters for roughly 100 years, where white performers would apply back shoe polish, burnt cork, or grease paint to darken their skin. These performers also exaggerated their lips, wore wooly wigs, white gloves, tailcoats or ragged clothes. Blackface played a significant role in cementing and profiteering racist attitudes and perceptions across the world.
Stoked by white solidarity, according to Mia Bay – the Roy F. and Jeanette P. Nicholas chair in American History and scholar of American and African American intellectual cultural and social history – working-class whites believed they could make fun of Blacks, because there was (and still are) a lot of social anxieties and concerns of Blacks doing well, or possibly becoming socially equal. Blackface asserts this is an absurd concept, because its caricatures are presented as: stupid, lazy, cowardly, over sexualized, violent, and prone to theft. These caricatures were also used as propaganda to spread racial stereotypes: from Zip Coon (a flamboyantly dressed man who used sophisticated words incorrectly) to the Mammy (an overweight and loud mother figure) to the Jezebel (the temptress) to the Buck (a large, proud, sometimes menacing man who was always interested in white women) to the tragic mulatto to Jim Crow.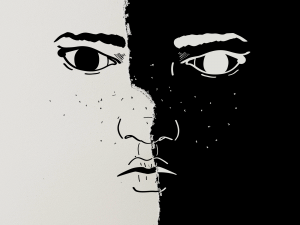 Crow's imagery was particularly troublesome, in my view, because his portrayal was presented as a dandy figure who wears nice clothes, but were torn and tattered. The idea behind such imagery was that Black people may aspire to greatness, but was incapable of doing so, in the opinion of the white power structure. David Leonard, a professor of comparative ethnic studies and American studies at Washington State University argues, "[blackface] was an assertion of power and control. It allows a society to routinely and historically imagine [Black people] as not fully human."
A February 2019 New York Times opinion poll indicates that one in five (white) American adults have seen someone appear in blackface in person. These results cross all genders (and gender identities), age groups, political parties, and educational levels. Bay asserts that blackface has become no longer seemingly acceptable on a public platform, but has found a place in private white spaces. Tuft University president Tony Manaco argues blackface has a long history of being used to demean, belittle, and objectify Black people here in the United States as well as worldwide.  For example, Canadian Prime Minister Justin Trudeau  made headlines recently when he was captured on film wearing blackface on three separate occasions.
In one incident, Trudeau appeared in what was referred to as "brown" face at an Arabian Night theme party in 2001 as part of a celebration at West Point Grey Academy, a private school where he  once taught. Trudeau was also captured in a photo dating back to his days in high school in blackface for a talent show where he impersonated Harry Belafonte singing "Day O."A third was in a video of which Trudeau has yet to explain its origins. In a media conference after the reveal, Trudeau said, "What I did hurt them, hurt people who shouldn't have to face intolerance and discrimination because of their identity. This is something I deeply, deeply regret." However, Trudeau admitted that he cannot recall how many times he has worn blackface. Canada has falsely been known as a beacon of comparative progressivism on issues of race, as well as on a host of other issues. In the past, Trudeau has issued high profile apologies to indigenous people, and gestures of support for feminism. However, Canada has long and deep history with blackface.
In a doctoral thesis in 2005, University of Toronto researcher Lorraine Elmire Louise Le Camp noted over 100 blackface minstrel performances across Canada – from the 1840s to the 1960s: most benefiting charitable causes, religious institutions, public and private schools, as well as colleges and universities, the military and law enforcement.  Homegrown acts, such as the Saskatoon Minstrel Show, and the Saint John Amateur Athletic Club remained popular on stage even after blackface loss favor in the United States – publicly. This left a lasting impact on Canadian culture. Professor of black culture at McGill University in Canada, Charmaine Nelson argues, "What's interesting to me is a lot of the most recent incidents are college – or university-educated white people in the context of their education and they're hiding it. [Blackface] was never meant to look like the range of brown colors of people from Africa; it was meant to be a grotesque mask. How ugly, how uncivilized are Black bodies –that was the supposed humor for these white performers and their audiences. Here are a few examples of this continued phenomenon of blackface in the United States.
A student at Massachusetts-based Tufts University posted a picture of herself in blackface on Instagram in January (2019.)
The University of North Carolina at Chapel Hill posted a 1979 photo on Twitter on February 7, 2019 that showed two dressed as Ku Klux Klan members, with a third in blackface smiling with a noose around his neck.
Two females University of Oklahoma students appeared in blackface and used racial slurs in an online video (January 2019.)
Florida's Secretary of State Michael Ertel resigned in January after photos of him in blackface surfaced of him at a college party in 2005.
American University staff and faculty recently reviewed old copies of its yearbooks dating back to 1926 and uncovered 15 photos, cartoons, and drawing involving blackface.
Colorado State University students posted a group picture on social media on September 11, 2019 in blackface in reference to the film The Black Panther. The image captured was captioned "Wakanda Forevaa."
With all this nefarious activity online with blackface, one has to ask the question, why are white people seemingly obsessed with blackness and blackface in particular? According to Professor of philosophy George Yancy at Emory University, blackface is a condemnation   Blackness by whites. It speaks to the parasitic nature of whiteness and its need to feed its colonial expression, to consume yet exclude, its need to masquerade, to project. Within this racist construct, white bodies remain "normative," "intelligent," "civil," "non threatening," it's self-redeeming and and self-congratulatory history that is indicative of white privilege.  However, Dr. Camara Jules Harrell, PhD, Howard University sums it up in this way, the whole concept of race is interesting because it objectifies individuals and reduces them to certain features. What blackface does is basically reduces images to ridicule and equates this ridicule to compantency. So, when you assume that an image is less than , your behavior would alos be affected. Most of this goes on unconsciously. Most of our processing of language and most of our thinking is unconscious as well.
Blackface sources

Greg Johnson. "The Ignorance of Blackface: Historian Mia Ay discusses the history of blackface, its intent, and why it is still occurring in the 21st century."26. Feb. 2019. Penn Today. Web. 22. Sept. 2019

David A Grahm. "Canada's Surprising History of Blackface." 20. Sept. 2019. The Atlantic. Web. 21. Sept. 2019

Daksharna Bascaramurty. "It Never Went Away: Canada's Troubling History With Blackface." 20. Sept. 2019. The Globe and Mail. Web. 22. Sept. 2019

Dr. Carmara Jules Harrell. "Blackface: "An Origin Story. 05. Mar. 2019. Aetia Editorial. @editoracaetia. https://twitter.com/i/status/1102909121832120320.  Web. 01.Oct. 2019
Staff Writer; Gustavus Betts
One may connect with this brother on Facebook; G. Betts and Twitter; Gustavusb.