Takeaways from ESPN's 30 for 30: Rodman: For Better or Worse.
(ThyBlackMan.com) You do not have to be a sports fan to enjoy ESPN's critically acclaimed documentary film series, 30 for 30. This year marks the 10 years since the first one debuted in 2009. The latest documentary aired just days ago named Rodman: For Better or Worse, was directed by Todd Kapostasy and reveals the life of former NBA star Dennis Rodman. During the last 30 years in the NBA, easily one of the most fascinating personalities in the league was Dennis Rodman due to his incredible rebounding ability and his on and off court style and actions. This film covers the way that Rodman shows his vulnerability, flaws, happiness, biases, and successes that he encounters throughout his life.
It is important to note the narrator of Rodman: For Better or Worse is actor and entertainer Jamie Foxx, who also was an executive producer of this project. He is able to capture the audience from the beginning with funny commentary and a brooding tone as the documentary starts with Rodman walking through different doors of his life as the scenery changes through each door including his childhood and teenage years as a social outcast, his college days playing for a small college in Oklahoma, during the "Bad Boys" Detroit Pistons days, the colorful hairstyles he displayed in his career including the Chicago Bulls dynasty, and his parties during the 1990s. There are also numerous interviews with significant figures including Michael Jordan, Phil Jackson, Mark Cuban, and Tim Keown, who was Rodman's ghostwriter for Rodman's 1996 autobiography, Bad As I Wanna Be.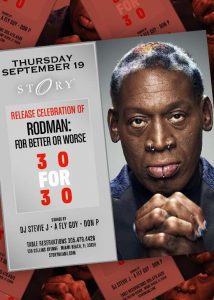 For people of all types, it becomes possible to see bits of themselves in Dennis Rodman as the film scrolls through his life as a social outcast turned star athlete facing racism in Oklahoma who becomes a hardworking success on the basketball court. Rodman experiences really high highs in terms of wealth and fame during the Chicago Bulls dynasty and very low lows in terms of homelessness after his mother puts him out and the internal sense of wanting acceptance from other people. An overarching theme of this film is also family as Rodman's complex relationships with his mother, absent father, and his successful sisters are constants in his own actions and how he views himself. The documentary does not also shy away from his own failings as a father including his adult daughter Alexis revealing strong feelings by her accounts.
Rodman: For Better or Worse highlights that Dennis Rodman became a global phenomenon known more than just being a NBA All-Star for several reasons. He had a brief tryst with the musician Madonna that exploded his notoriety and the various colorings of his hair, his tattoos, and numerous piercings were unique during the 1990s even for athletes as Rodman got attention from outlets like Rolling Stone magazine and MTV for his partying, rebel persona. Unfortunately, viewers are also able to see the flawed Dennis Rodman including a story that describes that he doesn't "like black women" in terms of dating them during his college days and whether his connection with wearing clothing and accessories deemed feminine was part of an act instead of ally-ship with the LGBT community. Viewers of Rodman: For Better or Worse will not pity or come to a conclusion about the complexity of Dennis Rodman after this documentary.
Staff Writer; Mark Hines