Sweet Boys Time To Man Up.
(ThyBlackMan.com) Yes I said it and it needs to be said. Sweet boys man up. It's time to speak true to perversion, not just to power. If you were born a male, you will be a male the rest of your life. Even if you get fake breasts, take hormone pills, wear sweet boy pants (or panties) and save your money so doctors can construct your fake vagina, you are still a male. Bruce Jenner is still a male, like it or not. Though he was emasculated by Kris because he could not handle the freak. Biological facts of anatomy cannot be changed by what you want to be nor what you think you are. If you object, too bad. If you think I am wrong, you are freakin delusional and in denial.
If you were born a male, choose to be a man. Choose to man up. The African-American community/race/ethnicity needs strong men, reproduction and to get rid of foolishness, lies, deceptions, confusion and chaos. Our community needs men of identity who are happy with who they were made to be and willing to become even more. Men of purpose, strength, values, morals, principles and masculinity.
Our women need real men, not men who act feminine like them. Our churches and mosques need real men, not sweetie pie male choir directors. Our communities need real men to be positive role models. Our African-American businesses need real men who know who they are as the men of Black Wall Street did – and look what identity can accomplish. Our children in the African-American community need strong men to provide stability for the home, a sense of safety and security for our daughters and the blueprint of how to be a real man to our sons. And yes heterosexual brothers need to step to the plate yesterday.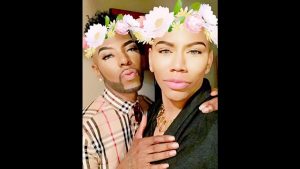 You can get offended and leave ugly messages, insults and comments for me but none of the above change who you are – what you were born as – who evolution and/or creation created you to be. Why not spend more time on rising to your potential instead of feeding confusion, rebellion and discontentment that you don't like who you are?
Instead of confronting the deviant sexual behavior of homosexuality, the wayward unnatural desires and perverted preferences, what do our "black" churches, politicians, black lives matter people and social activists do? Support the very behavior that will reduce our numbers. Support the very behavior that is confusing our children, making them curious, shoving it down their throats in schools and deceiving them into thinking deviant behavior is OK. To Hell with the rainbow. If you want a rainbow, go get skittles. Our African-American community needs males to man up.
Today in society when those of us with real family morals and values speak up, we are called homophobic. I am not afraid of any LGBTQ person or group, know that right now. But I am afraid of people having rights because of who they choose to have sex with. Maybe we should start a heterosexual movement for real men to stand up. And I am not including males in the closet, on the DL or curious as real men. Some say they might as well have a vagina because they bend over and act like they have one in the rear.
Are you offended? Well that's just too bad and I (along with so many others) am tired of those speaking the truth being called intolerant. I am tired of the lie that facts when spoken are called "hate speech". Have you ever thought about that you may be offended because you are hearing the truth that you already know down deep? Very often the truth makes people more angry than lies because it makes them look in the mirror on the inside. But try looking within instead to find peace, contentment, happiness about being born a male, ways to be a real man, purpose and healing.
I could prove everything I have just written by using statistics, the Bible, the Quran, biology/human anatomy, sociology, psychology and anthropology, but those of you who know the truth don't need all that. And those of you who don't will simply ignore the truth anyway – but not all of you. And the good news is that those who have an ear to hear and those who are ready to come out of deception and denial will hear clearly.
Homosexuality is abnormal and unnatural. Bisexuals are confused people who want to have their fruitcake and eat it to, literally. Trans-anything makes no factual, logical or reasonable sense because you cannot transform yourself into a woman. Will you have a monthly cycle? Can you have a baby? Will you even be happy after you have swapped out parts? Be honest.
Be a man, not just a lost and confused male. Don't cheat yourself out of the awesome legacy of children to carry on your name. Don't cheat yourself out of the strongest, most beautiful, most shapely women in the world – African American women. So you say you don't have any interest in women? Then ask yourself why – and be honest. Were you sexually molested? Are you following a trend of perverse curiosity and peer pressure? You can lie to me and insult me, but you cannot lie to yourself forever.
For those of you who support homosexual, bisexual and trans men, you are just as confused as they are if you think everybody should just do their own thing. You are just as confused and lost if you don't see the detriment of such a behavior on the community, on morality, on spirituality, on children and on the build-up of more African Americans through reproduction. Sociologically it has been proven that behaviors of a people can impact and even damage the community around them. Wake up.
More people think the way I do all around you but they don't speak out. Some don't have a bully pulpit and others like the "black" pastors are more concerned about losing money from offending people than setting people free Rev. Al Sharpton, Rev. Jesse Jackson, Rev. Bernice King (and others).
I never, ever espouse violence, mistreatment nor unfairness towards anyone, but if sweet boys want to be accepted for being different, why don't they want to accept those of us who think differently than they do? And don't you dare compare the struggle regarding who you have sex with to the struggle of the African-American in this country. No comparison at all.
I think straight and more of you should "straighten up and fly right" instead of pretending to be the Tinkerbell that you are not and never will be. Be a man, not just a male and not confused.
Staff Writer; Trevo Craw