There Are Now 11 Apple MacBooks on Sale, Which One is Right for You?
(ThyBlackMan.com) Out of the 11 MacBooks on sale, picking the one is not easy as all the models from the MacBook, MacBook Air, and MacBook Pro series have their pros and cons. In this guide, we will discuss all the positives and negatives about these Mac notebooks as we have compared them on design, performance, and standard features. Our MacBook vs MacBook Air vs MacBook Pro face-off will help you decide which MacBook is worth buying.
Affordability – Go for MacBook Air
Forget other regions, Apple MacBooks are expensive even in the United States. Laptops from other brands with similar configuration may cost you less than what Apple charges for the design, build quality, software, security, and most importantly the brand. So, if your search for a Mac begins with budget consciousness in mind, the best option for you is the MacBook Air which starts from $999.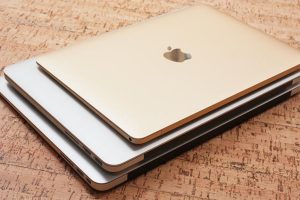 New models of the MacBook Air now sport a larger trackpad and the third-generation keyboard. It's the same trackpad which you see on the MacBook Pro. The Air has two Thunderbolt-compatible USB-C ports, which is not a convenient option as you can't connect multiple accessories at once.
The new MacBook Air doesn't have a Touch Bar, but the new models offer Touch ID. The Air is capable enough to handle everyday tasks such as internet browsing, email exchange, light video editing, graphics designing. Overall, it can easily handle your regular office applications. The Air's 8GB of RAM and Intel i5 processor coupled with up to 256GB of storage is sufficient for all the general purpose work, but if you want more power, the top models can get you more RAM, storage capacity, and an 8th generation Intel i5 processor.
Currently, there are three MacBook Air models available. These top-end models sport Retina display, Force Touch trackpad, Touch ID, and can be configured with the 8th generation Intel processors, Intel UHD 617 graphics, and a faster RAM. The base model, however, lacks Retina display and has a 5th generation Intel i5 processor.
Make sure checking these things before you buy. For those who work and travel a lot, the Apple MacBook Air is a perfect laptop. Remember that you may not be able to upgrade the hardware easily, so pick the configuration you can afford and can use at least for a few years.
All-Around Performance – Buy a MacBook
There are currently two MacBook models on sale. Laptops in the MacBook series are not top performers, but they are efficient and suitable for portability needs. If you're looking for an all in one package that offers beautiful design, great performance, and is still affordable, the MacBook is the answer. It's a great value for money product. Thanks to the technological advancements, the new MacBook laptops are now a lot better than the previous MacBooks. The Kaby Lake processor is a great addition which makes the new laptops more powerful in terms of performance and now you can expect more value for money.
For typical office work with a mix of light and heavy application use, the MacBook product line is perfect. It can easily handle professional applications that require more RAM and CPU cores, however, it's not the fastest Mac. The two MacBook models feature the same 12-inch Retina display and are configurable with up to 16GB of RAM. The base model has 256GB of storage while the high-end one gives you 512GB SSD. Both the models use the same Intel HD 615 graphics card and a USB-C port which can be used for charging, HDMI and VGA output. The starting price for Apple MacBook is $1299.
Need extra power? Get a MacBook Pro
The MacBook Pro is available in two screen sizes – 13 inches and 15 inches. There are four models in the 13-inch display product line, and the 15-inch display range has two extremely powerful MacBook Pros. Even if budget is not a concern, keep in mind that the MacBook Pro line is for those who are extremely demanding in terms of performance and portability.
You won't get a 15-inch MacBook in any other segment, and if a bigger, smoother and shiny display is all you need, then the choice is clear. Go for any of the two available models. But that's not the only thing you get with the MacBook Pro. These models sit at the top when their performance is compared with the other MacBook products.
If you're willing to buy a 13-inch MacBook Pro, the good thing is this new generation of MacBooks has got a serious performance boost. Thanks to the 8th generation Intel processors that make the MacBook Pro almost twice as fast as the previous models. The new MacBook Pro even beats the top-performing Windows models. These new models also offer better display quality with the help of Apple's True Tone technology, which adjusts colors on display based on ambient light. In terms of durability, this generation of the MacBook Pro is more reliable as Apple has made some improvements in the keyboard, trackpad and also in the battery.
Choosing the right one
If you're in the market looking for a new MacBook, by now you probably have understood one thing very clearly – the more you upgrade the hardware, the price tags get higher. But the most important thing you should ask yourself is – "Do you really need that extra power and can pay the added price?"
Although all the MacBook models are worth considering now, it should be noted that no matter what choice you make, these laptops will feel less powerful soon after Apple announces a new range of MacBooks. Unless you need an extremely powerful machine, laptops from the MacBook series are worth buying as the MacBook is powerful enough to beat the Air, and shares some key features with the high-end MacBook Pro.
Staff Writer; Corey Shaw
Have any Tech Tips? News? Hit up our Tech Guru at; CoreyS@ThyBlackMan.com