Join Together to Celebrate Your Passion at Wakandacon.
(ThyBlackMan.com) Black excellence has been on the rise for quite some. Historically speaking, Black and African-inspired culture has always been present in the national and international landscape, but with the event of the billion-dollar grossing Black Panther movie. The blockbuster film firmly situated Ryan Coogler as an A-list director, and made stars Chadwick Boseman and Michael B. Jordan household names. It's also made the land of Wakanda an ideal as the epic location for Black Excellence, whether fictional or not. This is why Wakandacon is the premier place to be in Chicago this August, whether you're a comics fan or a devote of the culture that made Black Panther such a phenomenon.
Why Come to Wakandacon?
If you're looking for a place to celebrate Black culture, Wakandacon is where it's at. Now in its second year, the festival isn't just about entertainment. Unfolding over three days, from July 26 to July 28, it's about so much more.
Wakandacon is an intersectional series of events focused on educating and strengthening the global Black community, with a specific focus on African-American history. Here, you'll experience what Afrofuturism is while having the opportunity to hear from renown speakers, poets, and be challenged and informed by topics like, "How politics affect Black identity in Art."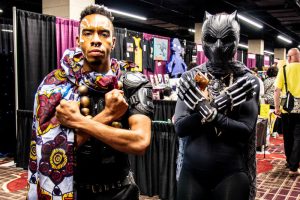 The great thing about Wakandacon is their acknowledgment of how the African experience is multi-faceted and worldwide and what contributions African-American culture brings to the Blank Panther experience.
What to Expect
Hosted at the Hyatt Regency McCormick Place, you'll get to experience Wakandacon in a location that is surrounded by history just steps away.
During the event, you'll hear from some of the most beloved guests and also be able to experience what Wakanda is like in real life through a cosplay contest and fan content throughout the venue and event space. The McCormick Place hotel offers a large space for fans to interact with vendors and exhibits without being crowded in.
The beauty of Wakandacon is that it is located in an area that is central and essential to Black culture. Stay for a day or two extra and you can roam the streets and experience Chinatown or take a 15-minute ride to Chicago's South Side and see where The Obama Presidential Center will be built.
How to Register
To register for Wakandacon you have a few options. You're able to buy day passes for any day of the event as well as full event passes that will cover you for all three days of the con.
You also have the option of a buy one give one where you can buy a ticket for yourself and give one to an economically disadvantaged local student, allowing them to see and feel Black excellence and celebrate Wakanda for themselves.
All passes give unlimited access to the entire Wakandacon venue, so you won't miss out on anything while you're there.
Registration is open now and you can buy your tickets today and you can also apply to be a vendor or sponsor of the event.
If you've been looking for your tribe, then this is where you'll find them. There's no other celebration on earth like it and no other way to celebrate Black culture and Black Panther in one space with people who get it.
Wakanda forever.
Staff Writer; Gary Brown