Daphne Maxwell Reid: Bringing Family Through Cooking.
(ThyBlackMan.com) Many of us know Daphne Maxwell Reid as Aunt Viv from "Fresh Prince of Bellaire". She has a rich on-screen career, but she is also a designer. She has contributed to community through many different career paths, and now she is has released a cook book titled "Grace + Soul & Mother Wit". She took the time to talk to us about the navigating multiple career goals, family, and the cookbook.
TBM: How did you balance having multiple passions? We are often told we must choose one thing and stick to it.
DMR: I keep hearing that pick one thing, no you don't have to pick one thing. You have to pick one at a time. You can pick a day or two for one thing, and different days for others. Monday and Wednesday is sewing, Tuesday and Thursday is music. Wherever your creativity leads you do your best that day; set a goal and achieve it. If your passion is in three different things pick three things and be great at them. It's important to do what your passion calls you to do and do them well. Just remember you don't have to do them all simultaneously.  Your passions are there and doing just one thing can be very boring.
TBM: In the mist of pursing and maintaining a career how did you balance home?
DMR: Home is my space, and my priority. What you do when raising children is train them to assist. They have jobs to do so I don't have to do it all. Everyone lives here so everyone works to contribute. Everyone should pitch in this is family. I don't know why we feel our children can only play. It is important that we raise our children's expectation. Whatever we do when raising them that is normal to us becomes normal to them. If you think they should be sheltered and coddled that becomes normal. However, I you think they are a part of this family and everyone pitches in and we will all have a great time that's normal to them.
TBM: Talk to us about what inspired your cookbook?
DMR: It's been a long time coming. I loved cooking when I was raising my children, and entertaining. Now that its just the two of us I don't do a lot of cooking. I collected so many recipes that use to be given out as a Christmas gift. They were recipes from different places and people we've met in our travels. Friends had been asking me for the past five years, "when are you going to get that cook book off your computer". I used to say not now because I was working on another book, but eventually the time was now. I had to figure out what kind of context I wanted, because I am not a chef. The recipes are accompanied by my stories of growing up in New York with my family, and memories I have with family.  Some doing know about having meals with family, so I teach you how to stock your kitchen, pantry, refrigeration, and what to have on hand. It touches on how to set up family, and new traditions. I tried to bring all of that together while making the book as beautiful and I could, and I'm pleased with what I came up with.
"Grace + Soul & Mother Wit" is a cookbook, but so much more. In a time whereby we move as 100 miles per hour we often lose the family bonding that comes through the cooking tradition. This book is one that can help families create new ways to bring everyone together through the art of cooking. The kitchen was once a place of learning, sharing, and the passing on of tradition. If you wanted to know what was going on in the family…just hang around the kitchen. This book is a great addition to the cookbooks in your kitchen as it offers wisdom on family in addition to some great recipes.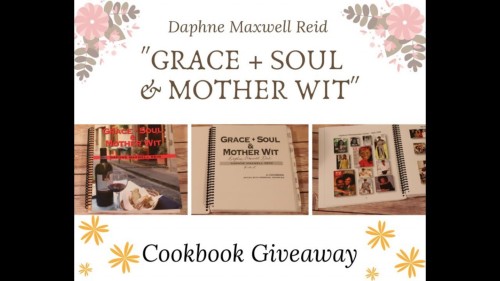 Purchase book here; http://www.daphnemaxwellreid.com/shop/
Staff Writer; Christian Starr
May connect with this sister over at Facebook; https://www.facebook.com/christian.pierre.9809 and also Twitter; http://twitter.com/MrzZeta.