The Uhuru Movement Gets Exposed Again By Another Former Member As An Opportunistically Greedy And Corrupt Organization.
(ThyBlackMan.com) Today, I listened to a video that a sista who's also a former Uhuru Movement member did where she revealed the reason as to why she left the organization last month is because of how the finances were being handled when she discovered how mostly white people especially some of the top ranking white members of The Uhuru Solidarity Movement were benefiting off of the financial exploitation of black people via donations and the labor exploitation of black people who were on the ground putting in the work. Another sista said that she left The Black Is Back Coalition back in November 2016 after she figured out how she was used as a prop to gather all the other mothers who lost loved ones to police violence to The March in DC and this greatly pissed her off.
The Ex-UM member sista also said in the video that some of the top ranked white people in The Uhuru Solidarity Movement are playing their role in the gentrification of the black community in St. Louis by using the finances to mainly buy up homes in St. Louis up to the tune of over $100,000. If this ain't opportunistic greed and corruption, then I don't know what is.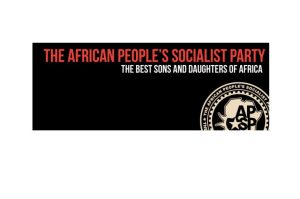 She had even mentioned that numerous current and former UM members in different cities were living in some of the most horrendous conditions and were told to give up their jobs and sacrifice everything even their individuality for an organization that truly doesn't care about them or the black community at large.
The things what this sista said about the mishandling of finances, opportunistic greed, and rampant corruption within UM is exactly what another member personally told me last year.
Here are excerpts from that interview.
Me: What type of corruption did you witness in the organization?
Former Member: "I can't speak to that. I do have experience with their authoritarianism that they use to kick out members and to get other members to hate them for whatever reason they made up. In my case, they posted on their website that I was assumed to be "working with the cops" to take down uhuru. Which was a complete lie and fabrication that they ran with to make me look bad. They even posted my one mugshot and used that old dropped charge to humiliate me."
Me: Did you witness people getting slandered for leaving the organization?
Former Member: "I didn't witness many others having it happen to them, but it definitely happened to me. I think I've spoken to a couple people who say something similar happened to them, but not on the same level of what they did to me."
Me: What's UM's relationship with the black community in St. Pete like?
Former Member: "They have meetings every Sunday. They're essentially the black leftist alternative to church. They have a few small devices like uhuru pies, and the Tyrone gym that they use to both help serve the community- trying to position themselves as an alternative to relying on the "white colonialist US government". So there are many in the community that support them. But most of their actual money comes from the white people in the solidarity committee- for they are the ones called on the pay reparations at every one of their meetings. Uhuru does solicit to black members as well, but for different reasons."
Here are also actual accounts of this from other former UM members.
"Then seeing how they switch up on people who decide to leave the movement and IMMEDIATELY start to shit on them and slander them made me really rethink my position within the movement"
"Things like Africans Charge Genocide, which I worked hard to get as many contacts as I could for were just used to promote events instead of what they were actually originally intended for."
"Why were there issues of misogyny and hetero-patriarchal violence within the party apparatus being systematically relegated to issues that could only be addressed after the revolution?"
"Why did the party needed furniture stores or a gym when the many people in their community are starving and homeless?"
"Why was it that The Chairman and his wife both drove push to start cars while many party members I knew personally could not afford more than one meal a day?"
"Why had I never heard The Chairman mention anything about his middle class background or military service?"
"Why did the party need economic development programs that did not create any sustainable form of affordable access to food or shelter?"
"Why did The Chairman stumbled and stuttered at The 2017 Plenary when explaining that the party's properties were legally in his name?"
"Why was The African community surrounding The APSP headquarters in St. Petersburg, Florida so distrusting of the movement and specifically so distrusting of The Chairman?"
"They called me a black capitalist for raising resources for African Martyrs Day and that I've spoken badly of the party because I opted to be a mass force. Also, it has been brought to my attention that I made up my apartment being broken into."
"I have personally seen on many occasions the party raising hundreds and sometimes thousands of dollars at singular events, but the members barely had any idea where or how the money was being invested."
"Their own people inside the party are starving and scraping by just to eat, but are supposed to give up and sacrifice everything for a movement that doesn't give anything back to our community and then they have their picks and chooses of who they'll help and when."
The Conclusion – The reason why I decided to do this article is to inform people that many of these "black organizations" that claim to be for our community like BLM, UM, CBC, NAACP are mostly funded and controlled by white people who use black faces to do their dirty work.
Staff Writer; Kwame Shakir (aka Joe D.)