Black NY Politician Ignores Black Women Attacked by Chinese Nail Salon Workers.
(ThyBlackMan.com) Brooklyn Borough President, Eric Adams, has come under fire for refusing to comment on the horrific gang assault that took place at the New Red Apple Nail Salon in Brooklyn, NY, where at least seven Chinese nail salon employees savagely beat 3 women after a dispute over a $5 botched eyebrow job.
On August 3rd, 2018, Christina Thomas and her grandmother, Mrs. Thelma Medley entered the New Red Apple Nail Salon at 1426 Nostrand Ave., in East Flatbush, Brooklyn, NY, to get pedicures in advance of an event the following morning. After receiving a botched eyebrow job, Ms. Thomas confronted the shop owner, Michael Lin, about her nearly completely missing eyebrow. After refusing to pay for the $5 eyebrow portion of the bill, Lin refused to discount that portion, to which Ms. Thomas responded, "So call the police, so they can settle this."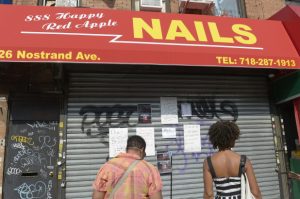 While sitting down waiting for the police to arrive, Thomas, Medley, and a 3rd unidentified woman were savagely beaten with broomsticks, chairs, and fists, and had acetone nail polish remover thrown into their faces. During that assault, Lin held Christina hostage while allowing his employees to attack her and her grandmother. The assault lasted for a full 5 and a half minutes, until the police arrived and arrested Christina (whose charges were eventually dropped after widespread protest), and only one of the 7 people who assaulted her and her grandmother.
That gang assault sparked protests and revived a national conversation about the racism, disrespect and violence that Black people (particularly, women) in America are subjected to in Asian businesses.
Just one week before the incident, Eric Adams held a press conference advocating for the Chinese American community by calling for the arrest of vandals who put up anti-Chinese graffiti in the fast-growing Chinatown of Brooklyn. "This is attempting to degrade communities and create a level of terror in our communities, and it's not accepted," said Adams during the press conference. Denouncing it as "premeditated action," he asked the New York City Police Department to investigate the incident as a "hate crime".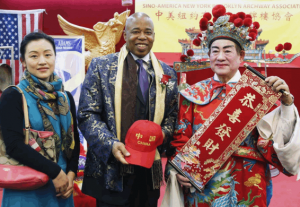 Many in the African American and Caribbean communities in Brooklyn have continuously called out Adams for his blatant double standard of justice and accountability, as it pertains to race and hate. While he has been a very vocal advocate for the Chinese American and Asian community, he has remained completely silent about the gang assault against the 3 black women by at least 7 Chinese people-including one male. He has not called for any hate crime charges to be filed. In fact, he has not called for any charges to be filed against anyone-including the 6 other nail salon employees who can been seen in HD on video savagely beating the women who were simply defending themselves and begging their attackers to stop. To date, it has been 3 months since the gang assault took place.
Just recently, on October 28th, 2018, Adams held another press conference, standing amongst Jewish leaders in the Midwood area of Brooklyn, just one day after a gunman entered a synagogue in Pittsburgh, Pennsylvania and opened fire, killing 11 people and injuring 6 others. He stated, "From now on, I will bring my handgun every time I enter a church or synagogue." He also said, "We have to live in the real universe that we're in. It's not popular, but it's right." Many top Democrats pushed back on Adams' position, which mirrored that of President Donald Trump, who called for guns in houses of worship, stating, "If they had protection inside, the results would have been far better.
If they had an armed guard inside, they might have been able to stop him immediately." Trump also said, "Maybe there would have been nobody killed, except for him[shooter], frankly." Pittsburgh's Democratic mayor pushed back, saying, 'I don't think that the answer to his problem is solved by having our synagogues, mosques and churches filled with armed guards." New York Mayor Bill de Blasio, who many speculate is eyeing a 2020 presidential run against Trump, spoke at Temple Emanu-El synagogue on the Upper East Side, saying, "Houses of worship do not have to have armed guards to be able to practice their religions. That's not America."
The backlash against Adams from the African American community has been swift, with many activists calling his recent actions nothing more than a revelation of his true conservative politics. Adams, a 22-year veteran of the NYPD, was a registered Republican from 1992 to 2002, which he explains by citing his work as a police officer and combating crime. He registered as a Democrat before running for, and being elected to the NY State Senate in 2006. However, many view Adams as an opportunist, and an individual who is willing to sacrifice principals for politics. While he has been quite visible in press conferences and public appearances with the Chinese and Jewish communities, Adams' presence has been scarce within the black community, who are, historically, his most loyal constituents.
When asked how she felt about the Borough President's silence regarding her assault at the New Red Apple Nail Salon, Christina Thomas said, "It really hurts. It basically feels like I don't matter." She further explained, "The same week that we got assaulted, Eric Adams was on tv calling for the arrest of people who wrote anti-Chinese graffiti, but when me and my grandma were beaten by a gang of Chinese people, he had nothing to say."
Currently, only one of the 7 attackers caught on video assaulting the women, Huiyue Zheng, faces charges. While social media, activists, and community members continue to ask when the remaining assailants will be brought to justice – Eric Adams and District attorney, Eric Gonzalez, remain completely silent.
Staff Writer; Roy King